Capogreco-Cappuccio receives recognition as Italian Author and Community Leader
Lauded by Pirandello Lyceum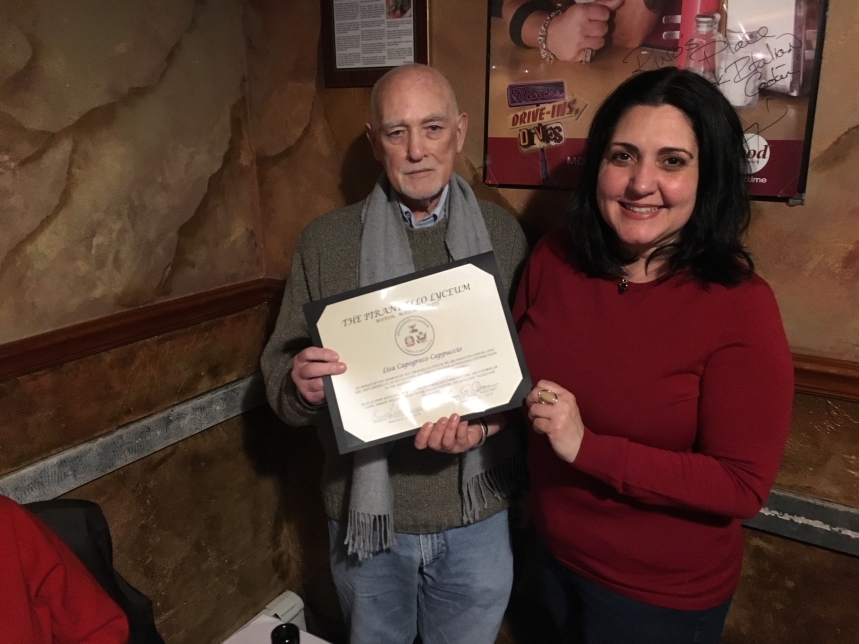 Lisa Capogreco-Cappuccio of East Boston was recently recognized by the Pirandello Lyceum for her outstanding contributions to the maintenance of Italian Heritage in America. Capogreco-Cappuccio is President of Italia Unita and an author of Childrens' books with an Italian theme.
Capogreco -Cappuccio was recognized at meeting of Italia Unita in East Boston where Pirandello President Dr. Domenic Amara cited her for talent as a write and for being an anchor for Italian culture in America.
The Pirandello Lyceum is an Italian Cultural Organization that celebrates great works and achievements by Italians, and those of Italian decent, which have contributed so much to the world.
"Lisa's quiet, behind the scenes efforts to keep the Italian culture and spirit alive in America needed to be recognized," said Dr. Amara. "Her love of things Italian, her organizational, linguistic and literary skills, and her personal achievements, demonstrate the qualities of Italian-Americans that help make America great. She is an example to us all."

More about the Pirandello Lyceum here.