Italia Unita
presents
The 4th Annual Italian Festival
July 17, 18, & 19, 1998
Central Square, East Boston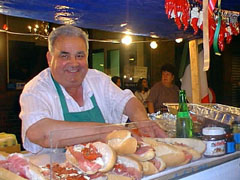 Domenic Capogreco serves up Bennington Food Market's best panino at last year's festival
Italian Food, Rides, Games, Casino, Pony Rides, Bocce Courts, Magicians and much more!


Friday July 17th
Italia Unita kicks off with an opening ceremony at 6:00 p.m. joined by the Sons of Italy Drum & Bugle Corp;

The Italian Serenaders; and,

Al Dente's Inferno - featuring opera singers Riccardo and Maria Benecchi in O'Riavulo Piscatore.
Saturday, July 18 (Festivities commence at 1:00 p.m.)
Spaghetti eating contest;

Joey Canzano - "The man of many voices"; and,

Special Guest Star -Evelyn Champagne King, singing her famous hits "Shame" and "Love Come Down".
Sunday, July 19th (Festivities commence at 1:00 p.m.)
The Italian Troubadours;

Italian Romantic and traditional folk songs in XVI century;

Ricordi D'Italia - Italian Folklore; and,

Neapolitan singer Gino Pasquetti accompanied by Sea Breeze.
Show your pride and join Italia Unita for a memorable weekend. For more information, please call 617-561-3201 or e-mail lunita@aol.com.Free outdoor event. Parking available. Also MBTA accessible on the Blue Line minutes away from Maverick Station.