Will take on incumbent Democrat Edward Markey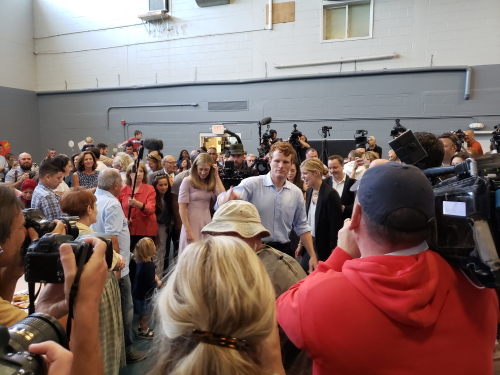 by Frank Conte

Congressman Joseph Kennedy III announced his candidacy for U.S. Senate in the gym of a social agency not far from where his great-grandparents first settled. With family in tow at the East Boston Social Centers -- he kept it simple. "If I am fortunate to serve in the Senate I will show up."

As he worked the crowd in a Happy Birthday song to his wife he deftly paused his pitch as his toddler son grabbed him by the leg -- an impromptu moment handled with spontaneous agility.

In all -- a seamless success and a bonus -- the implication that the 47-year creature of Washington, incumbent Senator Edward Markey has ghosted his home state.
The brief speech, before a group of mostly young and diverse supporters, was a far cry from great Uncle Jack Kennedy's standing-room only rallies, reflecting his low-key approach to handling his campaign against an incumbent.
The new generational pitch from the scion of one of the nation's famous political families scored heavily in its sincerity, tone and outlook. Principled pragmatism is where Joe Kennedy would like to go, when many Democrats may be heading left.
Kennedy leaned into a host of issues, not just climate change but a sea-change in Washington, beyond fire-breathing opposition to President Trump, and focused on those left behind, leaving room for the white working class. "The system is so broken that 63 million people thought Trump was the solution." The implication that Trump supporters are welcome to come back home.
The undertone was that this is indeed a time for choosing not for impatience, waiting one's turn or other bits of decorum that obsess party insiders.
This is not a done deal. Uncle Ted Kennedy's presidential bid imploded on day one with the famous incoherence of the Roger Mudd interview. The East Boston debut was gremlin free. Joe Kennedy met expectations and in so doing made the race not about the incumbent's age or Joe's famous name but about something more.
Now he needs to deliver. In any respect, East Boston has better political stories than Malden any day -- and they are still unfolding.