Government (under construction!)
UNDER CONSTRUCTION
Accumsan in lacinia ornare massa amet. Ac interdum ac non praesent. Cubilia lacinia interdum massa faucibus blandit nullam. Accumsan phasellus nunc integer. Accumsan euismod nunc adipiscing lacinia erat ut sit. Arcu amet. Id massa aliquet arcu accumsan lorem amet accumsan.
Election Results
2000 (Presidential)
2001 (Municipal)
2002 (State)
2003 Mayoral
2004 Presidential
2005 Municipal
2006 State
2008 Presidential
2009 Mayoral & Municipal Election
2010 State Election
2011 Municipal Election
2012 Presidential Election Year
2013 Mayoral Election
2014 State Election (Governor)
2015 Municipal Election
2016 Presidential Election
2017 Mayoral Election
2018 Governor's Race
interdum massa massa primis. Tempus condimentum tempus non ac varius cubilia adipiscing placerat lorem turpis at. Aliquet lorem porttitor interdum. Amet lacus. Aliquam lobortis faucibus blandit ac phasellus. In amet magna non interdum volutpat porttitor metus a ante ac neque. Nisi turpis. Commodo col. Interdum adipiscing mollis ut aliquam id ante adipiscing commodo integer arcu amet blandit adipiscing arcu ante.
News Archive
Senate Seat Campaign 2016
Breaking: Ernani says no to Senate seat. Details

Bulletin: Adrian's out. Will not run for State Senate.

Special elections slated for April 12 (P), May 10 (F).

Politics: The always-worth-reading Peter Lucas: "Climate change spurs Senate's brain drain"

The race for the next East Boston Senate seat

Politico's got the list: Senate race shaping up with new names

Stan's Man not running: CM: No go: Hefner's 'due diligence' didn't take long

Here come the liberals! Who Politico's Massachusetts Playbook thinks is running for Senate: Many names! Globe adds Ernani DeAraujo... Politico adds Diana Hwang; SHNS adds Lydia Edwards Globe tags Edwards as honorable mention in Bostonian of the Year contest

We're were right on one of the prospects! Update: BH: Michlewitz, Rizzo eye state Sen. run to fill departing Petruccelli's seat

Backgrounder: 2007 Special Election Democratic Primary Anthony v. Dan; & the Boston Vote

Big News! Anthony goes lobbying! BG: State Sen. Petruccelli to join lobbying firm after 20 years of public service
Let the race of succession begin!

EBDOTCOM exclusive Fall 2015: How East Boston voted in the at-large race

Fall 2015 General City Election results from City Hall. Voters say goodbye to Steve Murphy! At-large incumbent ousted as newcomer A.E. George takes fourth slot. BG coverage; BH coverage

Yo Adrian! It's Madaro! Congrats to the Democratic nominee...BH: Madoro wins close race

ADRIAN C MADARO 1498 42.09%
JOSEPH RUGGIERO 1140 32.03%
EDWARD W DEVEAU 570 16.02%
LOUIS M SCAPICCHIO 174 4.89%
CAMILO HERNANDEZ 173 4.86%
Write-in Votes 4 0.11%

Stats: Registered Voters 17317 - Cards Cast 3683 -- 21.27% Turnout
#1stsuffolk #EastBoston State Rep candidate @adrianmadaro wins spec elec democratic primary #bospoli #mapoli pic.twitter.com/orxxjVRnca

— Paul Rogers (@paulrogersbos) March 4, 2015
A setback for the Mayor's machine? Unions lose big time with Ruggerio pick.

Fitzgerald: Casino foe beat odds defending her values
No Eastie Casino says "Game Over" for Revere plan NECN
Absolutely Historic! East Boston Voters Declare Independence from Money Machine Politics; Turn Down Suffolk Downs proposal
NO 4281 56.08%
YES 3353 43.92%
Flaherty Tops! How Eastie Voted: At Large City Council
Politics Update Boston Mag 5/16: Murphy To Conley: Thanks, But No Thanks Background: Conley comes out for city-wide vote on casino!
2013: Results from City Hall: Special Election 4/30/13!
2013: Politics: DA in the race for Mayor: Conley is in; Former EB resident and Boston Foundation exec Robert Lewis mulling a run Globe 4/3
2013: Politics: NorthEndWaterfront.com 4/9:North End's Philip Frattaroli Considering Run for Boston City Councilor At-Large
2012: The local results for Suffolk County Clerk, Superior Court. How East Boston voted.
2012: How East Boston Voted! Results in Campatelli-LaMattina race.
LaMattina loses in close race for Suffolk Register of Probate; Incumbent Clerk of Criminal Court Hennigan fends off challenge from Dello Russo
More on Politics: Universal Hub: Voters send LaMattina back to City Council
| | | |
| --- | --- | --- |
| Patty Campatelli | 15,765 | 51% |
| Salvatore LaMattina | 15,154 | 49% |
2010 Election: How East Boston Voted for Governor, AG, Treasurer, Auditor, Secretary of State & State Senate.
2010: How East Boston Voted on the Ballot Questions.
Wicked Local 11/2: Petruccelli wins re-election to state Senate
ELECTION DAY 2010 IN EAST BOSTON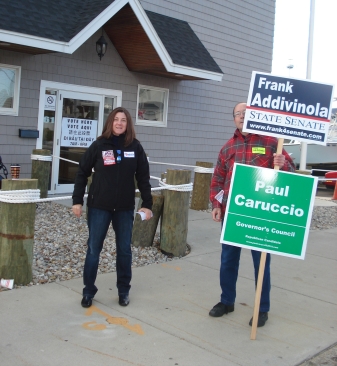 Supporters for local candidates line up outside Precinct 12, the Orient Heights Yacht Club. (November 2, 2010).
NEWS: Daily Caller 11/2: Mass. gov. hopefuls make final pitch to undecideds
Globe 1/27/2010: Brown reaches out on Boston Democratic turf
ORIENT HEIGHTS GOES FOR BROWN!
A signal to the Legislature redistricting MA lines?
Exclusive Results from East Boston.
HISTORY IN THE MAKING? Herald 1/14 Suffolk U. Poll: Scott Brown surges ahead Sisu: "I know more Democrats who are voting for this guy than Republicans"
(FINAL) CITY OF BOSTON ELECTION RESULTS. Unofficial results.
HOW EAST BOSTON VOTED IN THE PRIMARY FOR THE U.S. SENATE. Results Democratic and Republcan primaries for Ward 1.

ABSENTEE BALLOTS NOW AVAILABLE FOR JANUARY 19 ELECTION: Request/Renew your absentee ballot application now
How East Boston Voted on Election Day 2009
Menino outpaces Flaherty by 1000 votes; Connolly, Murphy top favorites in Eastie; Lamattina master a hometown blowout
More results prepared by Eastboston.com
EastBoston.Com: How East Boston Voted on Nov. 3, 2009 for Mayor, At-large City Council District 1 City Council.