Governor Baker and Mayor Walsh Join Community and Business Leaders to Mark Opening of Boston East
Elected officials and community leaders join Trinity Financial to celebrate opening of 200-unit residential community located on East Boston waterfront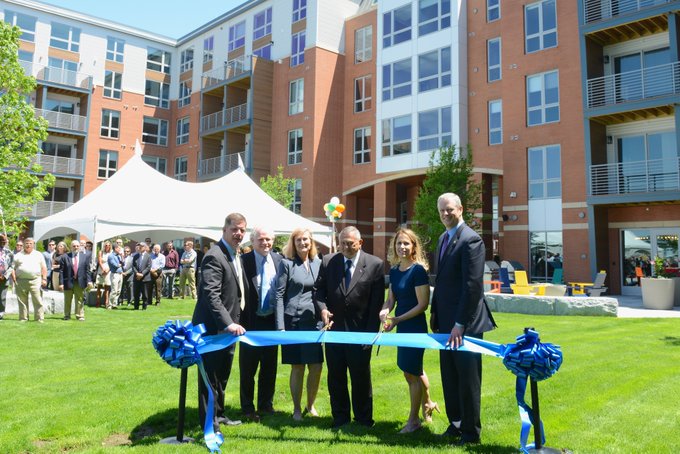 Boston, Mass. (May 21, 2018) - Massachusetts Governor Charlie Baker and Boston Mayor Martin J. Walsh joined developer Trinity Financial, the East Boston Community Development Corporation, elected officials and community leaders today to celebrate the official opening and ribbon cutting of Boston East.
Located directly on Boston Harbor and in close proximity to Downtown Boston and the MBTA, Boston East is a $71 million, boutique, mid-rise residential community that features 200 units, including six artist live-work-sell units and a community art gallery. Boston East also embraces and engages the waterfront with the development and expansion of the East Boston Harborwalk, which was made possible in part by a $3 million MassWorks Infrastructure Program grant to East Boston.
"Today we are celebrating the results of innovative public-private partnerships and the significant role they play in our Administration's efforts to develop and create housing opportunities across the Commonwealth," said Governor Charlie Baker. "I am pleased to see the successful work that has been done to transform this site into a residential community, which will deliver new housing units and public spaces, open access to East Boston's waterfront and maximize infrastructure investments in the area."
Boston East, which is designed by ICON Architecture, features an acre of open space that includes a number of community outdoor features - including multiple decks and a large rooftop lounge. A harbor walk trail extends around and past the development, and residents also have access to an onsite kayak and stand up paddleboard launch.
"This project showcases what can be accomplished when we work together with our partners to transform vacant, city owned property into beautiful, thriving and welcoming spaces," said Mayor Walsh. "Boston East has helped to revamp the waterfront by providing affordable as well as market rate rental units, more open space, as well as increased access to the Harbor meeting the City's sustainability criteria."
Boston East is located in one of Boston's fastest growing neighborhoods near restaurants and a variety of arts, cultural and outdoor amenities and activities. The development features studio, 1, 2 and 3-bedroom units, along with loft units located close to the MBTA Blue Line, downtown Boston and Logan International Airport.
"This project is the result of more than a decade of planning and hard work by a variety of public and private partners," said State Senator Joseph Boncore. "The result is a new residential community at Boston East that provides much needed new housing and features outstanding cultural and waterfront amenities that benefit the entire community."
Boston East also features a public art gallery that showcases work from area artists. "Arts and affordability intersect at Boston East through the inclusion of gallery space and six artist live/work/sell units," said State Representative Adrian Madaro.
"This project strengthens the vibrant cultural presence growing on East Boston's waterfront, and promotes public access to the harbor with valuable assets such as open space, kayaking, and the expansion of the Harborwalk."
The interior of Boston East features designs by Cortney and Robert Novogratz, whose unique style has been showcased on HGTV's Home by Novogratz and Bravo's 9 By Design, and in collaboration with companies such as CB2.
The Novogratz embraced Boston's rich history, seafaring heritage and location on the Harbor as inspiration for the "marine industrial" theme they incorporated into the interior design. The pair has conceived some of the most unique and amazing living spaces across the country but Boston East is their first large scale multi-family design.
"There are so many exciting things happening in East Boston and this new residential community showcases some of the unique features of this neighborhood," said Boston City Councilor Lydia Edwards. "Not only can residents and the community utilize the waterfront, they have the opportunity to access the work of local artists through these live-work-sell units and new gallery."
The site also includes a portion of land that is a Designated Port Area and will be developed by the East Boston Community Development Corporation with a marine-industrial related use. "The opening of Boston East is a major milestone for East Boston, as this project has been more than a decade in the making," said Al Caldarelli, executive director of the East Boston Community Development Corporation.
"Its unique mix of housing, artist amenities and public access to the water makes it an asset to the entire East Boston community."
Boston East was financed with private equity and a $45.7 million construction loan from J.P. Morgan. Boston East is already more than 40% percent leased. Trinity Management, LLC is serving as Boston East's professional property management company.
"Today we celebrate the official opening of Boston East, which has been incredibly well received by the neighborhood and the market," said Abby Goldenfarb, vice president at Trinity Financial. "We're fortunate to have so much support from all of our state, city and local partners and the result is a building unlike any other residential development in Boston.
Boston East offers residents and the community the opportunity to enjoy the waterfront and an active lifestyle in one of Boston's most desirable neighborhoods." Trinity Financial utilized its experience in creating successful market rate luxury living spaces to develop a unique and desirable residential community at Boston East.
Among the luxury communities Trinity Financial has developed or has currently in development include the One Canal and Avenir buildings in Boston, 66 Summer Street and Vela on the Park in Stamford, CT and Foundry Square in Newburyport. For more information, or to schedule a tour, please visit
https://www.bostoneast.com/
.
About Boston East Located directly on the waterfront, steps from Maverick Square and Central Square, Boston East is a $71 million boutique mid-rise residential community that features 200 units, including six artist live-work units. Boston East allows residents to engage the waterfront through a kayak and paddle board launch and experience uniquely designed apartments and amenity spaces with striking water views.
For more information, please visit
www.bostoneast.com
or call 617-BOS-EAST.
Source:O'Neill and Associates