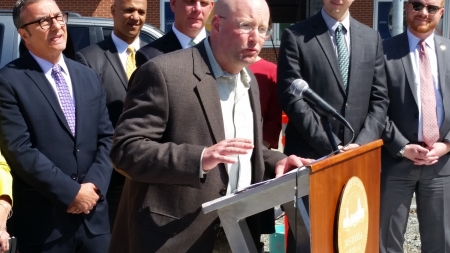 East Boston Main Street's Max Gruner addresses local residents and media at April 13, 2017 press conference in Central Square.
photo: EastBoston.Com
(East Boston, MA, April 13, 2017) At a press conference under a sunny sky where Central Square construction carried on, Boston Mayor Martin Walsh announced a number of local projects that will be funded through his capital plan.

The East Boston projects include:

-- a $12.4 million multi-year major renovation at the BCYF Paris Street Community Center to better meet the East Boston community's needs by providing additional programming space, a Teen Center, a new gym floor, a rock climbing wall, and a new fitness area. The project will also provide upgrades to all mechanical systems and boilers, windows, exterior and interior door replacements, athletic facility improvements, tele data upgrades, and new furniture and equipment, with $1 million allocated in FY18 for final construction;

-- a $5 million investment at BCYF Paris Street Pool to complete building renovation including upgrades to the mechanical systems, bathrooms and locker rooms, pool deck, lighting and entryway, with $520,000 allocated for design in FY18;

-- a $7.85 million investment for urban redesign and improvements for Centra l Square, with $2.82 million allocated in FY18 to compete construction;

-- the rehabilitation project of Noyes Park in Orient Heights slated to receive $3.1 million;

-- $4.7 million for new windows at East Boston High School;

-- and, $7.85 million for the urban design in Central Square.