<!Economics>

11 Youth Spend Summer Enhancing EB Parks Teens make a difference in the Community with Summer Job

(BOSTON, MA –August 9, 2012) Since July 9, a crew of 11 teenagers from East Boston and Charlestown have been working hard making improvements to the landscape along the East Boston Greenway and Belle Isle Marsh, learning about their environment and earning a paycheck all at the same time. These teens were part of Boston Natural Areas Network's Youth Conservation Corps (YCC), which employed a total of 47 teens working all over the city.

Thanks to the East Boston YCC Crew and their supervisor Timbah Bell, the East Boston Greenway has never looked better. The crew paid special attention to making the path open and inviting to visitors through landscape management. In addition, the crew also works at MA DCR's Belle Isle Marsh where they are blazing new trails and creating access as well as preparing a presentation for school age kids introducing them to the marsh and how to protect it.

On Friday August 24 at 1:00 p.m. the public is invited to visit the East Boston Crew at the Marginal/Breman streets entrance to the greenway and see all the great work the YCC teens have done. As one YCC teen put it, "I think we have worked very hard and I feel that I have made a big impact in my community." The community thanks all the YCC teens so much for their efforts this summer!

The YCC program is made possible by Paul and Edith Babson Foundation, City of Boston Youth Fund, City of Boston Parks and Recreation Department, Copeland Family Foundation, East Boston Greenway Council, Foundation M, Green Leaf Foundation, MA Department of Conservation and Recreation, George Macomber Family Charitable Fund, Neponset River Greenway Council, Croll Family Family Foundation, Tomfohrde Foundation, Ramsey McCluskey Family Foundation and Individual Donors.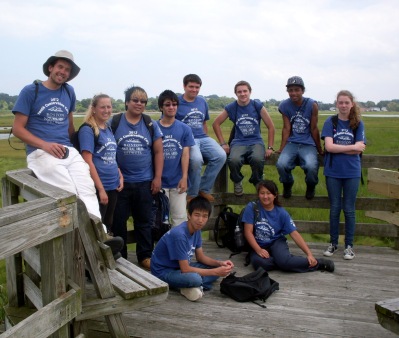 East Boston Crew Back row: Crew Supervisor Timbah Bell of Gloucester; Mirjana Stranjina of East Boston, Jordan Ng of East Boston, Tony Chang of East Boston, Curtis Coughlin of East Boston, Jesse Burgess of East Boston, Malcolm Brown of East Boston, Bridget Lovejoy of Charlestown. Front Row: Kevin Tong of East Boston, Jasmine Zhou of East Boston. Not pictured: Eliana Ramos of East Boston, Justina Jean-Francois of East Boston


Boston Natural Areas Network is a non-profit organization dedicated to bringing together local residents, partner organizations, public officials and foundations to preserve, expand, and enhance urban open space, including community gardens, greenways, and urban wilds. For more information about the organization, becoming a member or the calendar of events, visit www.bostonnatural.org or call 617-542-7696.
###