News, Blogs & Misc.
News from East Boston's best information utility!
UPDATE

Board of Directors break ground for new facility in Maverick Square, June 14.
Governor Patrick to mark groundbreaking for new East Boston Neighborhood Health Center Building in Maverick Sq.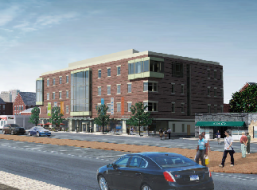 (EAST BOSTON, MA, June 8, 2010) —The East Boston Neighborhood Health Center is thrilled to announce that we will break ground on a new medical building at 20 Maverick Square, East Boston, on Monday, June 14, 2010 at 11:00 a.m.

Governor Patrick and local officials will attend the groundbreaking and dedication ceremony. The public is warmly invited to join us.

Our new 49,000 square-foot ambulatory care facility will include clinical space for primary care, vision services, and dental care, as well as increased administrative offices. The beautiful new facility will anchor a revitalized Maverick Square and is expected to generate new investment in the area. The "green" building will be LEED certified, fully energy efficient, and has been designed to complement existing architecture.

The Maverick Square medical building project is funded in part by a $12M grant under the 2009 American Recovery and Reinvestment Act (ARRA) Facility Investment Program. The East Boston Neighborhood Health Center is deeply committed to realizing the intent of this grant: increasing health care access to those who need it desperately, creating jobs in the short and long term, and revitalizing a depressed area of East Boston.

The East Boston Neighborhood Health Center (EBNHC) has been a vital part of the community for 40 years, providing easily accessible, high-quality health care to all who live and work in East Boston, Chelsea, Revere, Everett, and Winthrop, without regard to age, income, insurance status, language, culture, or social circumstances. EBNHC is among the largest community health centers in the country, providing 300,000 patient visits per year—more than any other ambulatory care center in the Northeast. From day one, the health center has operated 24 hours a day, 7 days a week. Today we are the only health center in New England, and one of the few in the country, to provide continuous care. We deliver 1,000 babies annually at Boston Medical Center and our Pediatrics Department cares for almost every child living in East Boston.

Tools
| | |
| --- | --- |
| | How-to for Do-not-call list |
| | Useful Phone Numbers |
| | Resident Parking Sticker |
| | <! removed podlink> RSS Feed |
| | Traffic Updates |
| | Resident Discount Tunnel Transponder |
| | Recycling Information |
| | MBTA |
| | Peak season map for Produce |
| | Zip Code Finder |
| | Contact Us |