News, Blogs & Misc.
News from East Boston's best information utility!
East Boston Farmers Market Kicks Off 2011 Season
East Boston, MA, July 11, 2011—The East Boston Farmers Market, sponsored by the East Boston Neighborhood Health Center (EBNHC), celebrated its 2011 season opener Thursday July 7, 2011, in Central Square, East Boston.
Market-goers enjoyed a wide array of fruits, vegetables, and herbs from Massachusetts farms, as well as fresh-baked artisanal bread.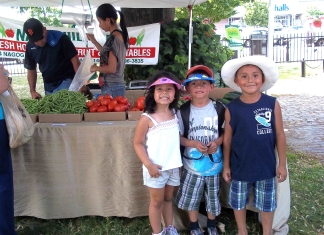 Located in East Boston's Central Square, the market runs every Thursday afternoon from 3:00 to 6:30 p.m. until October 20. The market was launched in 2008 by the Let's Get Movin' program at EBNHC as a community-based initiative to increase access to fresh healthy food in East Boston. This year's market features produce from four local farms, and East Boston's own 303 Café offers straight-from-the-oven whole-wheat bread in four different varieties.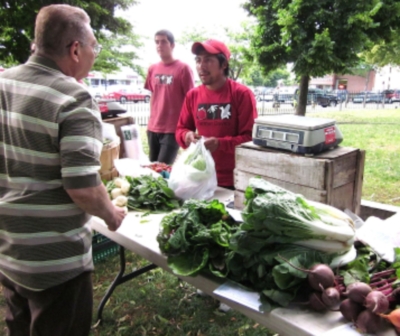 East Boston Farmers Market Manager Eleanor Chandler was pleased with the market's 2011 debut. "[Thursday] was a fantastic day at the Farmers Market," said Chandler. "The sun was shining, the veggies were crisp, the berries sweet and juicy, and the bread was still warm upon arrival. I was so happy to see all the beautiful displays, as well as all of the famers and shoppers I'd missed all winter. I especially enjoyed seeing dozens of face-painted children engaged in an epic hula-hoop competition with the Vegetable Circus."

All products at the market are grown or produced in Massachusetts; market vendors bring products that reflect the diversity of the East Boston community. In addition to traditional seasonal New England produce such as lettuce, cucumbers, tomatoes, basil, corn, and, strawberries, there are also products popular with the Central and South American community, such as chipilín, cilantro, yierba mora, amaranth, and cranberry beans (cargamantos).

Alison Smizer, Community Outreach Coordinator at EBNHC, has been involved with the market since 2008 and has seen the market transform into a vibrant gathering place over the years. "The market has truly become a community hub," said Smizer. "In addition to delicious food, we offer free activities for children, such as face painting and a coloring contest, as well as nutrition education, healthy recipe sampling, physical activities, and musical entertainment."

The Farmers Market accepts cash as well as SNAP/EBT and WIC. SNAP participants receive 50% off purchases up to $20 thanks to the Boston Bounty Bucks program, sponsored by the Food Project and the City of Boston. The market also accepts FMNP Senior Coupons.

The Farmers Market will partner with the East Boston WIC office for a one-day-only Farmers Market check distribution event at the July 14 Farmers Market. On that day, WIC participants can pick up Farmers Market checks from 11:00 a.m. to 5:00 p.m. at the WIC office. Guided tours from the WIC office to the Farmers Market will be conducted from 3:00 p.m. until 5:00 p.m.

The July 14 Farmers Market will also feature the Vegetable Circus, a program that uses circus skills to teach children about healthy living and eating. In addition, the UMass Extension Program will distribute tasty samples of their "Cool Summer Salsa" recipe. Come join us for fun and tasty times!

More information about the East Boston Farmers Market, as well as an updated listing of upcoming events, can be found on the health center's website, on Facebook, and on Twitter.

CONTACT:

Eleanor Chandler
Market Manager
East Boston Neighborhood Health Center
chandlee@ebnhc.org
617-568-4028

Source: EBNHC.
Tools
| | |
| --- | --- |
| | How-to for Do-not-call list |
| | Useful Phone Numbers |
| | Resident Parking Sticker |
| | <! removed podlink> RSS Feed |
| | Traffic Updates |
| | Resident Discount Tunnel Transponder |
| | Recycling Information |
| | MBTA |
| | Peak season map for Produce |
| | Zip Code Finder |
| | Contact Us |