News from East Boston's best information utility!
Summer Reading Makes a Difference with EBNHC and ReadBoston's Storymobile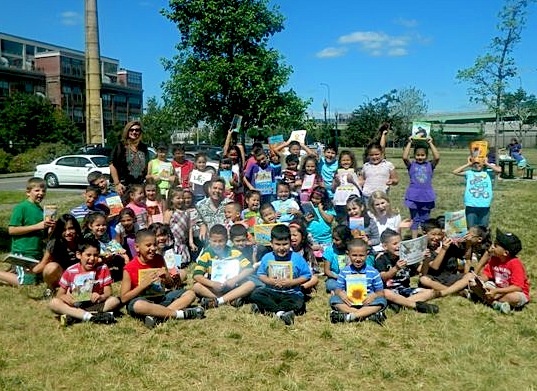 (September 12, 2012, East Boston, MA)—School has started again, and this year a number of East Boston children have the advantage of a little extra preparation, thanks to ReadBoston's Storymobile, which rolled into Airport Stadium Park this summer for the second year in a row.

Storymobile is a summer program coordinated by ReadBoston, a literacy initiative launched by Mayor Thomas Menino to encourage kids to continue reading during the summer months. Children who attend the Storymobile program hear a story told by a professional storyteller and receive a new book to take home. ReadBoston's mission is to ensure that every child in Boston can read at grade level by the end of third grade.

This goal is near and dear to the heart of Michelle Bettano, a former teacher who brings her love of learning to all of her work in Volunteer Services at the East Boston Neighborhood Health Center (EBNHC) and was responsible for organizing the Airport Stadium Park initiative.
She sees her desire to foster literacy in children as a natural extension of all that EBNHC does. She says, "Any opportunity a child has to be exposed to a book gives him ties to learning and understanding the world around him, and fosters a healthy mind."

When Bettano heard about the summer Storymobile program, she knew she wanted EBNHC to be a part of it. She signed up to be a coordinator, found space at Airport Stadium Park, and agreed to supervise the program at that location. Every Wednesday morning for the six weeks of the program, Bettano headed for the park with boxes of books to hand out to kids.
Each week, more than 70 children from the community and area schools attended the Storymobile program. They listened to engaging stories told by storytellers who encouraged audience participation.

At the end of each session, Bettano invited the children to choose a book from her supply, books ranging from board books for the littlest kids to other age-appropriate selections for the older kids up to age 8. Many children participated every week and received a total of six books to add to their home libraries.

Source:
Rosemary Pecorella, Executive Assistant
East Boston Neighborhood Health Center
10 Gove Street
East Boston, MA 02128
(617) 568-4570
iapiccar@ebnhc.org