POSTPONED TO APRIL 30
For more info visit
http://www.facebook.com/event.php?eid=218460614837659
ITAM's Vinnie's Run set for April 23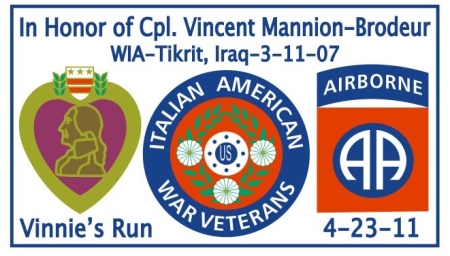 "VINNIE'S RUN" Presented by the Italian American War Veterans WWW.MASSITAM.ORG
SATURDAY- April 23rd 2011 Rain Date: Sat April 30th
The Italian American War Veterans is a federally chartered non-profit veteran's organization that was started after WWII. Part of our mission statement is: 1. To aid and assist veterans and their families. 2. To assist public and private agencies and institutions endeavoring to promote the public welfare.

On April 23rd, our post in East Boston will be holding a motorcycle bike rally. The purpose of this event is to raise funds for one of Massachusetts's most severely wounded veterans. Cpl Vincent Mannion of Hyannis, Ma, was in a coma for over a year after surviving a booby trap in Iraq. In result, this soldier has an eighth of his brain missing and a pump installed into his stomach.

Our event known as "Vinnie's Run" will consist of a motorcycle rally followed by a large BBQ. All proceeds will go to housing modifications for Vinnie and other veterans with brain injuries. All of our sponsors will also have the choice of advertising room on the back of the event's main t-shirts.


Get the PDF flier here.