News from East Boston Kiwanis
Sen. Petruccelli Addresses East Boston Kiwanis Club at its October 18 meeting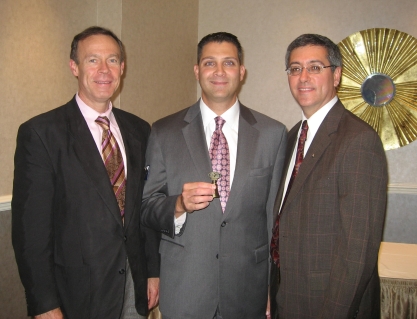 KIWANIS GUEST SPEAKER… Senator Anthony Petruccelli (center) was the guest speaker at the East Boston Kiwanis Club on October 18. He spoke about the casino legislation now under review on Beacon Hill. He is flanked by Dr. Matt Mallen (left), the club speaker's chairman, and Ed Coletta (right), club president.

Next Up: Club's November Speakers to include Clark Moulaison (Nov. 1) and John Nucci (Nov. 15)

(EAST BOSTON, MA October 28, 2011) – State Senator Anthony Petruccelli of East Boston was the guest speaker at the East Boston Kiwanis Club meeting on October 18, 2011, at Spinelli's in East Boston.

Sen. Petruccelli talked about the gaming legislation, which is now making its way through the House and Senate on Beacon Hill. He talked about the possible placement of a resort casino on the site of the Suffolk Downs Racetrack in East Boston/Revere and how the siting of a casino there might impact traffic, local businesses, and residents who live in the area. He also talked about which residents would get to vote on a local casino project and why the legislation designates certain areas for voting on a local proposal.

The East Boston Kiwanis Club also has two guest speaker programs scheduled for November.

On Tuesday, Nov. 1, Clark Moulaison will talk about the Main Streets Program in East Boston. On Tuesday, Nov. 15, John Nucci of East Boston – a vice president with Suffolk University in Boston – will talk about Suffolk's importance to Boston, as well as other issues from his days as a Boston city councilor and a Suffolk County court official.

The East Boston Kiwanis Club meets every first and third Tuesday at 6 p.m. in Spinelli's function hall, Day Square in East Boston. The public is invited to attend; those interested in attending can call Ed Coletta at 617-797-2683.

Source: Kiwanis Club of East Boston, Ed Coletta 617-797-2683