The Kiwanis Club of East Boston celebrates its 65th Anniversary

Kiwanis Club of East Boston's 65th Anniversary Celebrated with Special Tribute to Pasquale "Pat" Rosa
East Boston 26-Mar 2012 On Saturday March 24th The Kiwanis Club of East Boston celebrated 65 years of service to East Boston with a special anniversary presentation honoring the extraordinary life of longtime active member Pasquale "Pat" Rosa.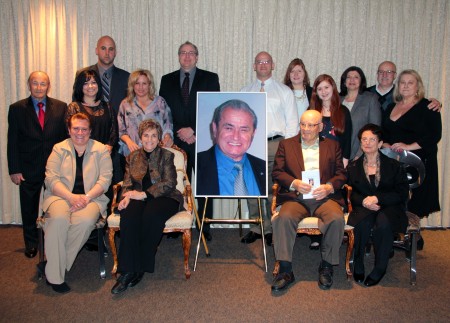 Members of the Rosa family graciously attended including Pat's wife Janet and his daughters Donna, Brenda and Sandra.
While photos of Pat and his family played in the background, guest speakers recounted fond memories of how Pat Rosa made a difference in the lives of so many. Kiwanis of New England District Governor Vesta Bowne and Lieutenant Governor John Chirichiello of Chelsea attended the celebration, along with East Boston High School Key Club members and many friends, business associates and fellow Kiwanians.
Guest speakers and longtime friends of Pat included East Boston Kiwanis Club secretary John Gillis, K-Trust Scholarship Committee President Philip Freehan, East Boston Chamber of Commerce President Diane Modica, East Boston Social Center Executive Director John Kelly, East Boston Savings Bank CEO Dick Gavegnano and Colin Kelly representing the Everett Chamber of commerce.

"Pat was a great American, successful businessman and a true friend," said East Boston Kiwanis Club president Ed Coletta. "With big shoes to fill, we will honor his legacy of commitment to family and community by remembering his words and his deeds. We are grateful to Pat's family for allowing us to share in his great gifts for so many years."

About the Kiwanis Club of East Boston: Founded in 1947, the Kiwanis Club of East Boston supports programs to benefit the children of East Boston including bike safety and reading programs. The club raises funds for local youth programs and outings for seniors.
Distinguished past members founded the K-Trust Scholarship program for high school graduates from East Boston. The club also raises funds to support the New England Kiwanis Pediatric Trauma Institute and the international Eliminate Project to fight maternal and neonatal tetanus.
For more information on the East Boston Kiwanis Club and the many projects supported by the club please contact Ed Coletta at Edmund.Coletta@state.ma.us
Source:
Clark Moulaison
East Boston Main Streets.
617.561.1044
ebmainstreets@verizon.net