East Boston Student Wins Honorable Mention in MWRA Poster Contest
The Massachusetts Water Resources Authority is pleased to announce that Jose Argueta, Jr., a grade 2 student at the M.E. Bradley School in East Boston, won Honorable Mention in MWRA's Annual Poster Contest.
This year's topic was "It's All About STEM" and was geared toward letting students know how science, technology, engineering and math are used by MWRA employees in their jobs.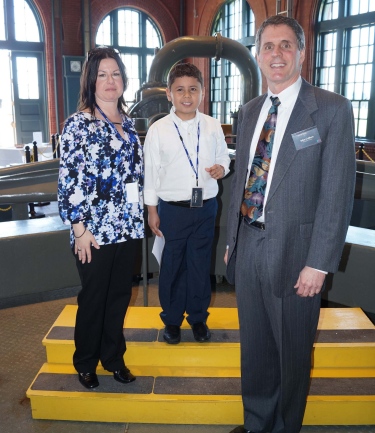 L-R: M.E. Bradley School teacher Kristen Keane, contest winner Jose Argueta, Jr., MWRA Deer Island Deputy Director John Colbert.

Students within MWRA's service area in grades K through 12 were invited to participate. The winning posters, essays and videos have been posted on MWRA's website. An awards ceremony was held on Friday, May 22, 2015 at the Deer Island Treatment Plant.

Honorable Mention Poster by Jose Argueta, Jr.