East Boston Main Streets Receives Commendation from Boston House of Representatives
East Boston, MA (January 08, 2015) – On Thursday, January 8, East Boston Main Streets was presented with a Commendation by the House of Representatives at the State House. As one of his final acts, outgoing representative Carlo Basile presented Max Gruner, Executive Director of EBMS, with a Commendation signed by House Speaker DeLeo for the organizations continued work on behalf of the businesses and people of East Boston.

"It is a wonderful honor to be recognized for our work in East Boston and throughout the City," said Max Gruner. "I want to thank Speaker DeLeo and Representative Basile and, in particular, I want to thank my Board of Directors and staff for their tireless efforts in bringing innovative programming to East Boston and for working tirelessly to promote and support our remarkable diversity in the neighborhood."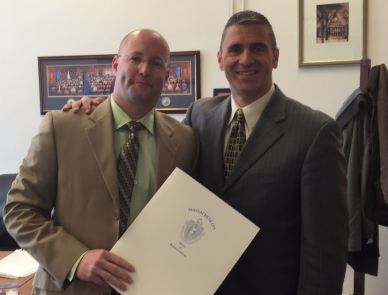 "This is a truly deserving organization," said representative Basile. "We wish Max and East Boston Main Streets all best in the future and I look forward to seeing East Boston continue to flourish."

For more details or questions, please contact Max Gruner at mgruner@ebmainstreets.com or at 617-561-1044.

####
EBMS is a non-profit corporation. Its mission is to create a more vibrant business district by initiating private and public improvements, promoting commerce, and supporting efforts to improve the quality of life for all who live, work, and do business in East Boston.