Wally Bowe's Legacy Lives On! Dynasty Team wins first ever title!

by Stephen Fielding
The final seconds ticked off the clock. Dynasty knew it had won big-time over The Bad Boys. Yet, at the end of the game, each team displayed genuine comradiere, respect, and appreciation for their opponent -- understanding the entire effort of each team in their quest for the championship trophy.
This year's Wally Bowe–Salesian Club Hoop Finals is now history … and Wally's legacy as an inspiration and advocate for kids, and the manner they conduct themselves lives on.

At the end of the game all the players were smiling and joking as three of Wally Bowe's sisters, Anne Bowe Gonzalez, Valerie Bowe Kirschning, and Jaqueline Bowe DeMichele, handed out the trophies.
As Anne stated, "The focus should be on the kids. This is what Wally was all about." The sisters and all their extended family possess deep love and pride for Wally, and are passionate to ensure his memory and love for kids is retained.
They have partnered with the Salesian Boys & Girls Club and have funded the Wally Bowe-Salesian Club Basketball Tournament, provided team jerseys for six teams, and made sure each player participating in The Finals receives an engraved trophy.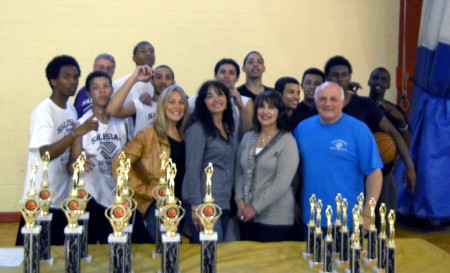 Trophy Time with Anne Bowe Gonzalez, Jacqueline Bowe DeMichele, Valerie Bowe Kirschning, Fr. John Nazzaro, Dynasty, and The Bad Boys. Photo-Stephen Fielding.
Team Dynasty: Xavier Munoz, Darnell Alan, Peter Pires, Ian Jones, Nelson Roche. Photo-Stephen Fielding.
Bad Boys: Louis Rosales,Jason Salinas,Fred Julien,Tevin Jones,Carlos Lopez,Josh Castro,Kevin Sandoval,Maurice Nunez,Chris Blue. Photo-Stephen Fielding.
The games began in early February each Wednesday night – fielding six teams for teens 14 years old through 19 years old. The teams represented a diverse and cross-section of the East Boston youth community and brought them together under the Tournament named for Wally Bowe. As Fr. John Nazzaro, executive director of the Club, stated when it all began months ago, "Wally was instrumental in doing things for all teenagers. This yearly tournament keeps his memory alive with kids and their families. Even if they didn't know Wally personally, everyone who plays in the tournament knows who he was and what he stood for." Wally's name is displayed prominently on each shirt. Already, the kids are looking forward to the beginning of next year's season.

-30-