Italia Unita to assist EBHS-Italian Student Exchange program with "Una Sera Italiana: An Italian Evening"

Italia Unita is excited to learn that East Boston High School Students will travel to Italy on an exchange program this March. It is our mission to promote and preserve Italian culture and what is a great way to do that? By sending our youth to Italy to discover the treasures of Italy.
Below you will find an invitation to support a fundraiser to help those who otherwise could not afford to go. You will also find a brief description of the program. If you can not attend, they are collecting donations... any donation is accepted and appreciated!

The East Boston High School Italian Exchange Program invites you to experience "la dolce vita" at a fundraising dinner to support their upcoming trip to Rome and Sicily. Enjoy home cooked spaghetti, meatballs and Italian cookies; enter to win fabulous raffle prizes; bring your children to participate in fun games like "pin Sicily on the map of Italy" and get their face painted with the Italian flag!

The event will take place at Savio High School, (145 Byron Street, East Boston) on Saturday, February 12th from 5 to 8 pm. Tickets are $10 each, or $5 for children 12 and under.

All proceeds from the event will support the East Boston High School Italian Exchange program, which brought eleven students from Sicily to East Boston High School this past November, and will be sending twelve students from East Boston High School to Italy this March.

For questions or to make a donation, please contact Jessica Gorham Cronin: gorhamcronin (at) gmail.com. Checks can be made out to East Boston High School and sent to East Boston High School Italian Exchange; c/o Jessica Gorham Cronin; 86 White Street; East Boston, MA 02128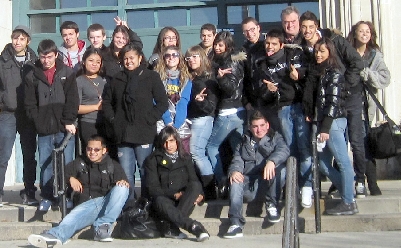 EBHS students with visiting students from Sicily last November (Photo courtesy Italia Unita)

East Boston/ Italy Student Exchange Program

Program Objectives::

To broaden student perspective and experience through exposure to the language, customs and culture of Italy

Program Description

During the spring of 2010, students from Italian classes at East Boston High School began an email exchange with a group of students from Alcamo, Sicily. Eleven of those students visited our school from November 23 – December 3, 2010. Students lived with host families, engaged in classes at East Boston High School, and visited sites of historical and cultural significance both in Boston and in a side excursion to New York City.

To complete the exchange, twelve students from East Boston High School will be selected to go on a trip to Italy in March, 2011. The academic component of the trip is critical; this trip was not designed as merely a tourism vacation, but as an opportunity for students to experience life as an Italian student as they live with Italian families and engage in academic activities. We chose this particular week because it incorporates the March 17th school holiday, and was also ideal for the Italian school, as they have a Belgian group visiting during the same week and we will be able to share resources to tour the region.

Students will fly from Boston – Rome on an overnight flight on Wednesday, March 16th. They will spend Thursday and Friday exploring the cultural and historical sites of modern and ancient Rome. While in Rome, the group will stay in a hotel (information attached) and chaperones will be responsible for taking students to visit sites of cultural/historical importance using the Roman public transportation system.

Students will fly to Palermo on Saturday morning where they will be met by their host families. The group will stay in Sicily for seven nights. The Sicilian host school has compiled an itinerary of our week's stay, which will include travel to various cities of historical/ cultural importance within the region. The group will return to Boston on Saturday, March 26th.

During the trip, students will be working with their chaperones to create a blog of their journey, including pictures, videos, links to sites visited, budget tracking and journal entries for each day of the adventure. These blogs create an additional academic component of the trip, through the writing, math and technology exercises inherent in the project. In addition, these blogs will become a learning tool for current and future students who are interested in Italy and international travel.

This trip will be funded through a combination of fundraising activities and student contributions.