East Boston and Revere Ward Committees Endorse Gabriel Gomez for U.S. Senator
(EAST BOSTON May 18, 2013) The East Boston Republican Ward Committee (EBRWC) endorsed Gabriel Gomez for U.S. Senator at their last meeting. On May 15th the Revere Republican City Committee hosted a meeting at the Beachmont VFW Post and was joined by Chairman Charlie Veiga and other members of the East Boston Republican Committee. At the meeting the Revere Republican City Committee (RRCC) also endorsed Gabriel Gomez for U.S. Senator.

Scott Conway, Deputy Political Director for Gomez for U.S. Senate, spoke about why this upcoming election is so important. Scott said Gabriel is in a new generation of Republican leaders with a great American story. He was born in Los Angeles and is the son of Colombian immigrants, who instilled in him a duty to give back to his country. He went on explaining how now more than ever, we need a leader in Washington with Gabriel's experience working with others to deliver results. Gabriel will fight to earn the people's vote and be elected as the next United States Senator from Massachusetts.

The Committee's Guest Speaker was State Representative Brad Hill, the Minority Whip of the Massachusetts House of Representatives. Since being elected to the House of Representatives, Brad has fought to ensure quality care for those with developmental disabilities, and to provide property tax relief and prescription drug coverage for our seniors, and to impose fiscal discipline on Beacon Hill. Brad was a dynamic speaker and provided the Committees with ways the voters can make a difference in electing responsible citizens to federal, state, and local positions. After his talk, Representative Hill opened up the floor for questions, which brought a wide-ranging discussion on the many issues the membership was concerned about. He emphasized the fact that state revenues are up and there is really no need for additional taxes on Massachusetts residents.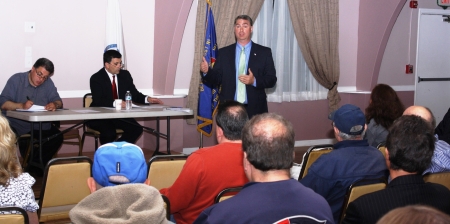 State Rep. Brad Hill addresses joint meeting of Revere and East Boston GOP committees on May 15 in Beachmont.

The EBRWC will hold their next meeting on Sunday, June 2nd, 10 A.M. at the East Boston Y.M.C.A.
For further information write: ebrwc@yahoo.com