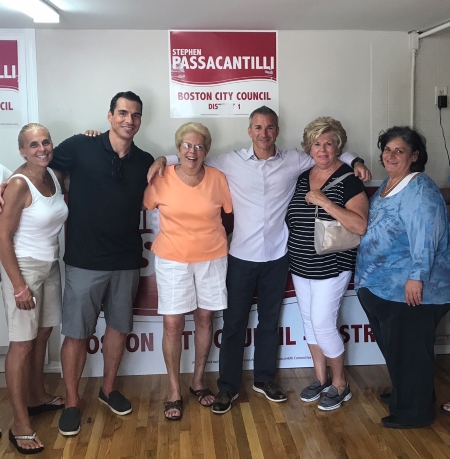 Patty Braid, Paul Passacantilli, Patty Sartori, Fran Carbone, Nancy LoConte

EAST BOSTON – Stephen Passacantilli, a North End civic leader, Boston Public Schools parent, and former staffer to City Councilor Sal LaMattina has officially opened his East Boston Campaign Headquarters. Passacantilli is running for District 1 City Council, which includes the neighborhoods of East Boston, Charlestown, and the North End.


On Saturday, Passacantilli held an office grand opening attended by dozens of East Boston residents. Passacantilli's East Boston headquarters is located at 402 Saratoga Street.


Passacantilli said, "It is so important to have elected officials who are accessible and responsive. As City Councilor, I will be an outspoken advocate for East Boston, Charlestown, and the North End, and I will always put you first."

Many know Passacantilli from his years of public service across Boston. He is a lifelong resident of the North End where he has been deeply involved as past president of his local civic association and through local charities and community organizations like North End Against Drugs (NEAD) and the North End Beautification Committee. Passacantilli is also an active Boston Public Schools parent and serves on the board of the Gavin Foundation.


Passacantilli and his wife, Renee, are raising their two children, Grace and Evan, just around the corner where he grew up in the North End.