Paid Political Advertisement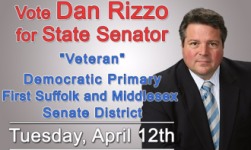 Paid Political Advertisement

Ward 1 Democratic Committee hosts organizational meeting, considers endorsement for State Senate candidate

(EAST BOSTON - March 16) A meeting of the Ward 1 Democratic Committee was held on Wednesday, March 16, 2016 at the Salesian Boys & Girls Club.
This meeting was the first meeting since the new twenty-one (21) members were elected during the Presidential Primary on March 1st.

The ward Committee took action on several items that included:
the election of officers, the election of delegates to represent the committee at an election to fill a vacant male state committee seat for 1st Suffolk & Middlesex district; and

a vote to consider endorsing a candidate for the special election for the 1st Suffolk and Middlesex Senate seat.
The committee voted to elect the following officers, who will serve a two (2) year term:
Michael Sulprizio, Chair
Karen Buttiglieri, Vice-Chair
Joseph Ruggiero Jr., Vice-Chair
Jeffrey Drago, Treasurer
Kathleen Orlando, Secretary
W.E.David Halbert, Affirmative Action and Outreach Advisor

The Committee also voted to consider endorsing a candidate in the 1st Suffolk and Middlesex Senate race.
An endorsement meeting has been scheduled for Tuesday, March 29, 2016 at 6:00pm at the Salesian Boys and Girls Club, 150 Byron Street, East Boston.
All Democrats are welcome to attend the endorsement meeting, but only current Ward committee members can vote on the endorsement.
A two-thirds (2/3) vote of committee members present is required in order for a candidate to receive the committee's endorsement.
All Democratic Candidates will be invited and each candidate will be allowed to make a five (5) minute presentation and five (5) minutes to answer questions from Ward committee members.

Again, all Democrats are welcome to attend. However, only current members of the ward committee will be eligible to vote.
Questions? Contact Ward 1 chairman Michael Sulprizio at msulprizio@comcast.net.
Follow the Ward Committee on Twitter @ward1demsEB or "Like" us on Facebook at https://www.facebook.com/ward1dems/