Soccer Hall of Famer Eric Wynalda, New England Revolution Star Matt Reis and Teammates Lead Hundreds of Boston Campers through Youth Soccer Skills Clinic at Camp Harbor View

Soccer pros, Josh Kraft, Jack Connors, local news personalities kick off Sovereign|Santander's Gold Cup™ 2013 sponsorship and "Goals for Charity" community giving campaign
(July 3, Boston) – Hundreds of Boston-area inner city kids dribbled and dodged around U.S. Soccer Hall of Famer, Eric Wynalda, and Major League Soccer (MLS) stars Matt Reis, Kevin Alston, Darrius Barnes, Ryan Guy and Clyde Simms during a New England Revolution Academy youth soccer skills clinic at Camp Harbor View in Quincy this week.
The soccer program headlined a celebration announcing Sovereign|Santander's CONCACAF Gold Cup 2013 sponsorship, and kicked off its accompanying charitable giving campaign, "Goals for Charity".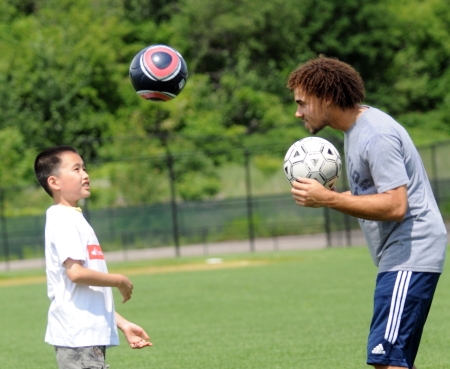 East Boston resident Longhao Huang with Revs star defender Kevin Alston

Partnering with the New England Revolution and Gold Cup, Sovereign will donate $500 for every goal scored during the Gold Cup™ 2013 as well as during Revolution home games this season. The accumulated funds, up to $50,000, will be divided among the "Goals for Charity" beneficiaries – Boys and Girls Clubs Boston, Camp Harbor View and Cradles to Crayons.

The clinic took place following a celebrity soccer shootout where three teams competed for bragging rights while taking shots on a goal tended by Revs all-star goal keep Reis, all in the name of charity. Participants included Camp Harbor View campers, Camp Harbor View Co-Founder Jack Connors; Boys & Girls Clubs of Boston Nicholas President and CEO Josh Kraft; Cradles to Crayons Founder and CEO Lynn Margherio, Sovereign|Santander Head of Corporate Banking Edvaldo Morata, FOX 25 Morning Show Host Shannon Mulaire, WHDH 7 Sports Extra Host Rhett Lewis, and Comcast Reporter Jessica Moran, who played emcee for the afternoon.