The Woodrow Wilson National Fellowship Foundation is pleased to announce the recipients of the 2014 Thomas R. Pickering Undergraduate Foreign Affairs Fellowships. Among them is Andy Vo of East Boston, MA.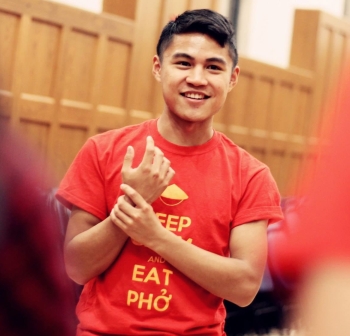 Administered for the U.S. Department of State by the Woodrow Wilson National Fellowship Foundation, the Thomas R. Pickering Foreign Affairs Fellowships develop a source of men and women whose academic backgrounds fulfill the skill needs of the State Department and who are dedicated to representing Americaís interests abroad. Selected in their junior year, Pickering Undergraduate Fellows receive financial support towards tuition and other expenses during the senior year of college and the first year of graduate study. Additionally, Fellows participate in one domestic and one overseas internship. Upon the completion of their masterís degree, they commit to five years of service as a Foreign Service Officer.

Mr. Vo is a Bachelor of Arts candidate in global affairs (international security track) at Yale University. He expects to graduate in May 2015.

More information available at

http://woodrow.org/news/ww_pickeringfellows_2014/.