News, Blogs & Misc.
News from East Boston's best information utility!

EASTBOSTON.COM EXCLUSIVE!
Historical Record on the Battle of Chelsea Creek Challenged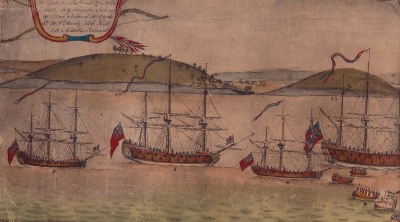 by MICHAEL A. LAURANO

Widely accepted rules for the naming of important historical events are being violated in connection with the use of a National Park Service grant of $ 48,300 to fund a project "to preserve and protect the battlefield where the first naval engagement of the American Revolution was fought." Overseen by the Massachusetts Department of Energy and Environmental Affairs the project's focus is on what was actually a series of skirmishes between the British and the Americans that took place on and around Noddle's Island and Hog Island (today's East Boston and Orient Heights) and Chelsea (today's Chelsea and Revere) in late May of 1775. Without any doubt the objective of the project is very praiseworthy in itself and this focused research effort is most important. Attention to this series of events has been long awaited by those familiar with these too often overlooked events and the effort is well overdue.

However: Parts of this story clearly belong to old East Boston. Other parts certainly belong to old Chelsea and some parts to both. All of the story belongs to America and in the telling, starting with the name given to the project and the underlying "battle" the full truth should be told. There are conventions usually applied to the naming of historical events such as a battle where there is no commonly accepted title or as in this case where there has long been a controversy. The first question is usually "Where?" The actual location of some of these events was on "Noddle's Island" and Hog Island. That is where early and later historical references definitely placed them. A critical question also exists that demands an answer: Were the Winnisimmet ferry-ways (located at the foot of Winnisimmet Street in the vicinity of today's Admiral Hill, Chelsea) which figured so importantly in the burning of the HMS Diana in 1775 then considered as being in "Chelsea creek" ? Or did the Colonials know that location as being in the waters of Boston Harbor or perhaps the Malden (now known as the "Mystic" River ? "Chelsea Creek", quite different in 1775 from as we know it now, does not seem even to have been named as such on the maps and nautical charts of those times. Perhaps that is because Old Chelsea until 1739 had been "Winnisimmet" (Chelsea), "Rumney Marsh" (Revere) and "Pullin Point" (Winthrop) and a part of Boston and that particular creek, one of many, was considered an insignificant detail of the Boston coastal seascape.

Boston Harbor 1775

In 1875 the 100th anniversary of these events was celebrated in East Boston with speeches, public commemoration, and fireworks. In Chelsea those events seem to have been mostly forgotten or ignored until in 1900 a Chelsea partisan published a resurrected memory of what he said he had proclaimed in 1891to a surprised and admittedly somewhat disbelieving audience of local Civil War veterans: "The Battle of Chelsea."

In 1975, on the 200th anniversary of the "battle", in the interests of fairness, conciliation among sometimes narrowly focused and perhaps vain feuding local interests, brevity, and above all, the truth, the name "The Battle of Noddle's Island and Chelsea Creek" was suggested from the East Boston side of that selfsame creek. The underlying facts and truths of that important early engagement between the British and the Americans remain the facts and the truth now and will remain the facts and truth forever. The Battle of Noddle's Island and Chelsea Creek was not in 1775 by contemporary accounts nor for more than two centuries afterwards by serious historians usually referenced only to "Chelsea Creek". That is, until recently and the currently misnamed, although otherwise excellent, government sponsored "The Battle of Chelsea Creek" project.

To misplace by misnaming an important American Revolutionary War historical event simply to feed local vanities constitutes historical revisionism and is plainly wrong. A tail does not wag a dog nor does a minor creek, one of several in its proximity or on its perimeter, including Mill creek (Slade's-Revere), Crooked Lane or creek (once navigable at high tide, now Boardman Street, Orient Heights), Belle Isle Creek (Revere & Winthrop), define an island. Noddle's Island was not in 1775 merely an island in Chelsea creek. East Boston never was that and is not that now. In deference to tradition and the full truth of the matter this early chapter in the American epic struggle for freedom should be known as "The Battle of Noddle's Island and Chelsea Creek" which in fact it was and not "The Battle of Chelsea Creek" which alone it most definitely was not.

What East Boston historian William Sumner, author of the History of East Boston had to say about the Battle of Noddle's Island and Chelsea
More East Boston history on eastboston.com.

Tools
| | |
| --- | --- |
| | How-to for Do-not-call list |
| | Useful Phone Numbers |
| | Resident Parking Sticker |
| | <! removed podlink> RSS Feed |
| | Traffic Updates |
| | Resident Discount Tunnel Transponder |
| | Recycling Information |
| | MBTA |
| | Peak season map for Produce |
| | Zip Code Finder |
| | Contact Us |