Stars Shine at 16th Annual Boston Main Streets Awards

On Thursday May 17th, 2012, Stars from the neighborhoods including local volunteers and businesses shined at the 16th Annual Boston Main Streets Awards. This yearís event was held at the historic Strand Theater in Dorchester.

(Boston, MA. 20 May-2012) For the 6th year the Master of Ceremonies for the Annual awards was WGBH radio host Ron Della Chiesa who is also a Dorchester resident.
Mr. Della Chiesa spoke eloquently about the local Main Street programs. Mayor Thomas Menino and DND Chief and Director Evelyn Friedman presented awards to a group of Volunteers and Businesses representing each of the Main Streets districts.
Guests were entertained by the Boston Latin School Wolftones.

East Boston Main Streets would like to congratulate the 2011 Volunteer of the year, Leigh Hall whose artistic talents produced a wonderful calendar of East Boston photos from yesterday and today. Accepting the award for Leigh was her good friend and Main Streets board member Melissa Tyler. The 2011 business of the year was Mr. Hector Rendon from DíParma Restaurant.
Accepting for Mr. Rendon was his two lovely daughters Jolene and Angela. DíParma Restaurant, located at 182 Sumner Street in East Boston, serves great Italian food, has a great selection of beer and wine, a full bar and is open until 1 am.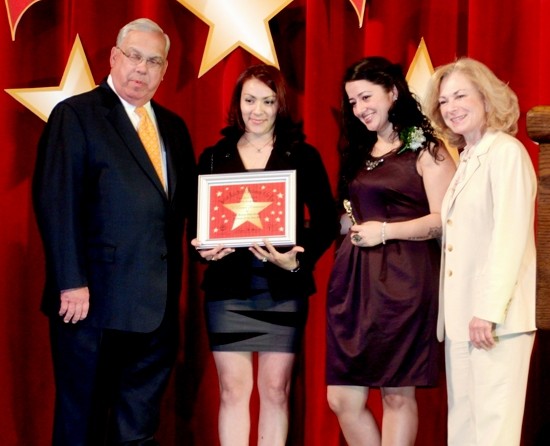 DíParma restaurant is just steps from the Maverick Station MBTA Blue Line Stop, Mr. Rendon and his family are long time supporters of Main Streets and proud participants in the annual Taste of Eastie culinary event.

About East Boston Main Streets. EBMS is a non-profit corporation. Our mission is to create vibrant business districts by initiating private and public improvements, promoting commerce, and supporting efforts that improve the quality of life for all who live, work and do business in East Boston.