East Boston Main Streets Presents Check to Mario Umana Academy

(East Boston, MA.-29 May-2012)- East Boston Main Streets volunteers were on hand to present a check for $2,500.00 to the Mario Umana Academy as a result of the 2012 Calendar sales.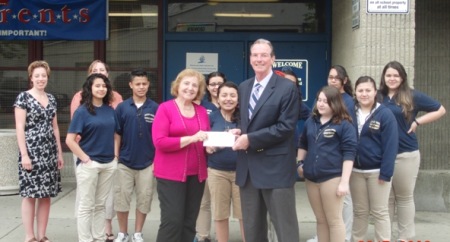 EBMS Treasurer Grace Magoon along with board member Marika McKnight released the proceeds from the 2012 EBMS calendar which was produced with the extraordinary help of volunteers Leigh Hall and Todd Antonellis.

Dean of students Jim Kearney and teacher Julia Brasser accepted the funds on behalf of the Academy.
The students at Mario Umana Academy have excelled due to the hard work f dedicated teachers and the leadership of Mr. Kearney.
EBMS is proud to have helped raise funds for the students and have high expectations for their future education. For more info on the Mario Umana Academy go to www.umanamiddleschool.org

Calendars are still available. Anyone interested in purchasing this collectable calendar can contact EBMS 2617.561.1044 or ebmainstreets (at) verizon.net