New England Revolution Players Join America Scores at Santander Clinic at LoPresti Park


Students And Players to Run Skills & Drills on Field Recently Renovated by U.S. Soccer Federation and America SCORES; Clinic Part of Bankís Commitment to Education and Community

WHAT: More than 80 local youth enrolled in America SCORES Bostonís after-school program took the pitch with the pros when New England Revolution players Luis Soffner and Andre Akpan and Revolution Academy coaches joined them for a once-in-a-lifetime soccer clinic courtesy of Santander Bank, N.A. and the Major League Soccer team.

America SCORES Boston provides at-risk students in the Boston Public Schools the opportunity to combine academic support, cultural enrichment and the athletic thrill of soccer, which aligns with Santanderís ongoing commitment to education in the communities it serves. As part of the clinic, team members from local Santander branches will lead students in financial literacy exercises. Santander is the Official Bank of the New England Revolution.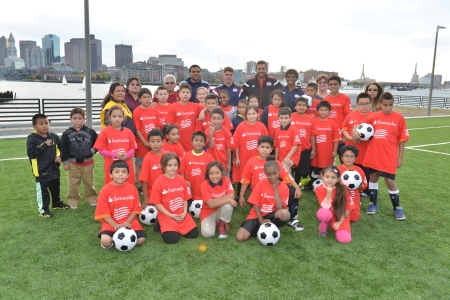 Umana Academy: L-R (in the back) Lucia Lopez-Kodis (coach), Leticia Martinez (coach), Joseph Carrerio (Santander Employee, Davis Square), Revs Players (Andre Akpan, Donnie Smith, Luis Soffner, Jossimar Sanchez), Nicole Ruttan (coach), Sable Smith (coach)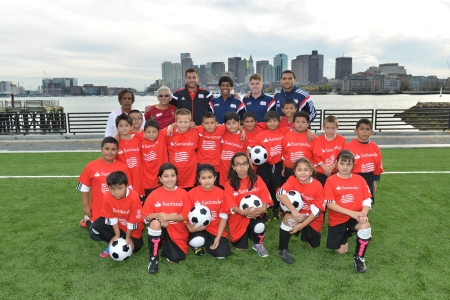 Patrick J. Kennedy School: L-R (in the back) Cynthia Grant Carter (coach), Joseph Carrerio (Santander Employee, Davis Square), Revs Players (Luis Soffner, Jossimar Sanchez, Donnie Smith, Andre Akpan)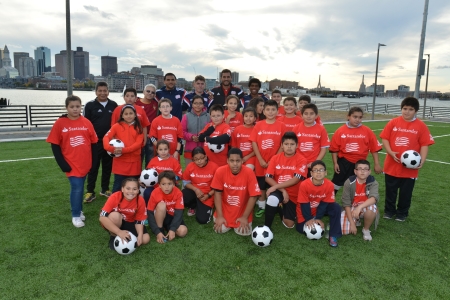 McKay School: L-R (in the back) Orlando Hoyos (coach), Joseph Carrerio (Santander Employee, Davis Square), Revs players (Andre Akpan, Donnie Smith, Luis Soffner, Jossimar Sanchez)