Mt. Carmel Parishioners to hold 2013 Christmas Day service at Embassy Suites
WBUR RADIO 1/5/2010: Church Squatters Keep Faith As Vigils Drag On
EASTER MASS AT MT. CARMEL: Globe 3/24/08: Defiant parish welcomes bishop's presence, chafes at message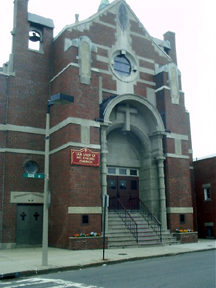 EASTER MASS AT MT. CARMEL: Globe 3/16: For closed parish, a prayer answered: Bishop to say Mass on Easter
Globe 12/22: Sign of hope at closed parishes: Priests will say Christmas Mass at 3 churches;
Globe 10/21: O'Malley pledges financial openness: Lawmakers still push for legal requirement:
Globe 10/18: Archdiocese defends bid to stop fund-raiser: Says parties in hall are inappropriate
Herald: McPhee 10/17: A new low in battle over E. Boston church:
Herald: McPhee 10/3: The Vatican blind to its responsibilities in Boston
Herald 8/6: Embattled Eastie church parishioners surrounded:
Dateline Alabama 8/5: Closed parish sues to keep church from selling property;
Herald 7/7: Parish sit-ins perplex O'Malley
Globe 7/5 One more church spared as review committee completes work
Associated Press 6/29: Church closing process continues to haunt Boston archbishop
Globe 6/28: 'Malley backs off closing Peabody-Salem parish: Offers chapel plan to E. Boston group
Herald 6/21: Eastie parish lobbies for chapel status
Globe 6/19: O'Malley intensifies action on closings: Eager for new issues, focus (Commission divided on Mt. Carmel)
Globe 6/18: No reprieve, but new hope: Some encouraged, others bitter at O'Malley reversal
Herald: Catholics stiff P.R. collection: Refuse to fund church's media operation;

100th anniversary of Mt. Carmel Parish Celebration
April 17, 2005

photographs by eastboston.com
West Roxbury Transcript:Sal Giarratani 4/21: Thinking out loud
Globe 4/17: At somber centennial, hope lingers
Wellesley Townsman: As world continues to mourn for pope, threatened parishes express their anger
Herald: As world still weeps, parishes rev up fight
Globe: 5 parishes to keep vigils: 3 others say they may join them
Herald: Faithful cause: Mass keeps solidarity among archdiocese's weakest churches;
Herald: Lay archdiocesan official confirms AG parish probe
Globe: Pope's condition may slow appeals: 5 parishes await action by Vatican
Globe: O'Malley to reopen 2 occupied churches
Herald 3/10 Flock blames priest for missing funds: Closed Eastie church claims at least $200G gone
Herald: Parishioners believe Mary sent a sign
Globe12/26: Parishioners maintain a watchful eye on church;
Herald 12/23 Fight to keep churches open gets nastier
NO STOPPING THIS VIGIL: This arrived at eastboston.com recently.
Dear Friends & Supporters & Media,
A
lot has been happening this holiday season for the Mount Carmel Church in East Boston. Most of you know that the Archdiocese has not granted Mt. Carmel a midnight Mass on Christmas Eve, although he did grant it for other suppressed parishes. Being an Italian Church, the midnight Eve Mass is the most celebrated, meaningful and traditional event for Italians!! We were overlooked once again.
On Friday December 24th at 4:00PM we will hold a brief communion service. Immediately following the service we will hold a candlelight vigil at San Padre Pio site, directly across the street from Our Lady of Mt. Carmel Parish. We are going to pray for the Archdiocese to "See the Light
.
"
We need your support! Please make an effort to stop by for at least 1/2 hour. Spread the word. God Bless you all and happy holidays!
Our Lady of Mount Carmel
128 Gove Street
East Boston, MA 02128
For more information contact Lisa Capogreco at Boston Concepts.
O'MALLEY: NO MIDNIGHT CHRISTMAS MASS AT MT. CARMEL!
Globe: Protesters reach out to Rome: Italian TV broadcasts from E. Boston church
Herald 12/20: After confab: O'Malley won't allow holiday Mass at Mt. Carmel.
Globe: Request to reopen church denied

Globe: 12/19: From the pews, quiet rebellion: Ordinary Catholics in unusual fight;
Herald 12/16: Eastie church hopes O'Malley will show `spirit of Christmas'
Globe 12/11: Protesters reach out to Rome: Italian TV broadcasts from E. Boston church

Update Globe 10/15: Agreement with closing parish collapses;

Herald 10/14 East Boston parishioners heed `sign,' vow to fight;
Globe 10/13: Mt. Carmel parishioners stage sit-in
Globe 10/11: A 'miracle' at final Mass (Mt. Carmel): Parishioners see fallen statue as closure protest;

TheBostonChannel.com 10/11: Virgin Mary Statue Falls During Church's Last Mass

Herald: Eastie parish longs for a lil' Italian;

Globe 10/6: Deal heads off church occupation Closing parish wins concession;
Globe 10/8: O'Malley seeks review of closings Acknowledges laity's unrest on parishes
Globe 10/3 Eileen McNamara: Unanswered prayers
A PLEA FALLS DEAF ON O'MALLEY: