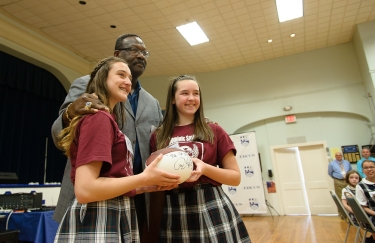 Catholic Schools Foundation Kicks-off Its Annual Inner-City Scholarship Fund Bus Tour in East Boston

New England Patriots Alum and NFL Hall of Fame Inductee Andre Tippett to Present Remarks

On Thursday, May 21, 2015, the Catholic Schools Foundation (CSF) and special guest, New England Patriots alum Andre Tippett, will tour East Boston Central Catholic School as a part of CSF's annual Inner-City Scholarship Fund Bus Tour.

The tour will provide an opportunity for some of the city's most prominent businessmen, like Peter Lynch of Fidelity and Marc White of J.P. Morgan Chase, to meet the students they support through the Inner-City Scholarship Fund. Hear from Tippett about why he supports Catholic education, as he presents autographed footballs to student representatives for their stellar community service.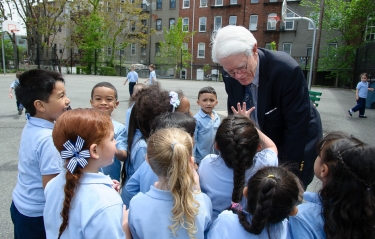 Interviews with CSF, East Boston Central Catholic School educators and students will be made available.

When: Thursday, May 21, 2015

12pm – Bus will arrive at East Boston Central Catholic for tour


Where: East Boston Central Catholic School
60 London Street, East Boston, MA


Contact: Hillary Laggis, Catholic Schools Foundation 617-778-5981

hlaggis (at) csfboston.org



###

The Inner-City Scholarship Fund is the signature program of The Catholic Schools Foundation. Through this fund, thousands of children in need receive partial scholarships to attend Catholic schools in the Archdiocese of Boston. Scholarships are given primarily to students in high poverty neighborhoods and are awarded without regard to race, religion, national origin or gender.