News from East Boston's best information utility!
EASTBOSTON.COM EXCLUSIVE!
The story of the Luongo Fire of 1942
by MICHAEL A. LAURANO

In November of 1942, East Boston along with the rest of the world was preoccupied with the bitter war in Europe. For a brief moment that focus shifted when, on Sunday morning the 15th, the country awoke to find a literal nightmare that would later be known as "The Luongo Fire" had transpired the night before.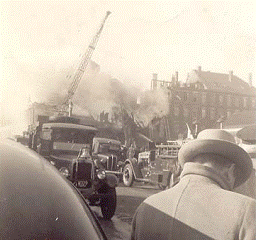 Photograph courtesy of Michael Laurano (All rights reserved)
Long afterwards that event still struck a responsive chord in the collective memory of the East Boston community and far beyond. A restaurant fire in which the side wall of a 100 year-old building in Maverick Square fell, killing six firefighters.

That particular Sunday morning was —as an old-time East Boston resident remembered in 1979 citing a newspaper piece on the subject —" A sad day for everyone."
The Luongo Fire was a milestone event — that people measure the times of their lives by— not unlike the assassination of President Kennedy or September 11th. "I was just getting ready to go into the service when that happened," wrote another resident in 1979. It was an event that has always evoked somber tones and grave expressions and among East Bostonians especially.

It is one thing to read of a disaster and another to be within sight, sound and smell of its fury and to have known its victims not only as names but as people.

The full story of the tragedy and the heroic firefighter bravery that was "The Luongo Fire" now continues to live —and will continue to as well it should — thanks to the power of the Internet where it is told in full.
The only physical evidence of the horrific conflagration that remains is the still missing attic of the building next door on Henry Street adjoining the one-story building now on the site.

For many years, the idea of placing of a tangible commemorative memorial has been raised. For various reasons — political in nature — such a memorial has never happened. Of those reasons one is that neighborhood monuments are seen as unnecessary.

But yet East Boston still remembers that Sunday morning and the Luongo Fire of November 15, 1942. We can remember. We do remember. And we will.

-November 14, 2010.
More East Boston History by Michael Laurano
Setting the Record Straight! The Battle of Chelsea Creek and Noddle's Island! An East Boston.com Exclusive
What East Boston historian William Sumner, author of the History of East Boston had to say about the Battle of Noddle's Island and Chelsea
More East Boston history on eastboston.com.