Politics and Elections: The race for state rep 2015
Elegy for a bakery
by Mike Laurano

Officially named "Betty Ann Bakery", under prior original ownership it had been "Cotty's." We of East Boston's "Fourth Section," however, thought of, and more often referred to the landmark at the corner of Bennington and Moore Street's as simply "The Bakery" or sometimes "Laura's".
With no room for doubt though many who lived far from Star of the Sea or Grace Church traded there also clearly it was "Our Bakery". It was one of the first places my Mother allowed me to walk to alone several blocks up red brick unevenly paved linden tree-lined Bennington Street when I was a young child. She would call ahead and Billy's aunt, Laura, who was out in the front store, then would be waiting to relay that the little boy with his Boston terrier companion named Garbo had made it – and was on his way back home with an armload of brown cardboard boxes containing chocolate cupcakes, apple turnovers, fig squares and three bags, each one containing a loaf of freshly baked bread, white, oatmeal and Vienna. Eclairs and bismarks were only for the colder months, as were custard pies.
Many others regularly made that trek by foot or by vehicle as well or got off an orange trolley stop or two sooner to stop there on the way home from work.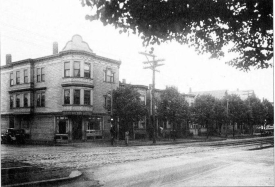 Courtesy of Michael Laurano

In those days, the 40s, the 50s, Billy's Grandfather, the original Mr. Scantlebury who had brought his traditional recipies with him when he came from the British Isles where donuts are a specialty used to set up a pot bellied stove every winter in the front store which was nice to warm by in weather like we have been having.

In later years, the little boy with the dog having grown to adulthood, Laura told me that her Father always remembering the struggles and hardships that the Great Depression of the 1930s had wrought-- insisted on keeping prices low and quality high. That was a rule that later Billy's Dad and then Billy in succession for many years and up to the present, held fast to.

A few years ago I happened to meet Billy in Maverick Square and thanked him for feeding the neighborhood so well with bread, pies, birthday cakes and oh, those donuts, for so long. There are no more places like it and especially donuts like those that I can find.


Beyond that and on a different plane The Bakery was a big part of our lives in an East Boston always strengthened by a diversity of population that the outside world little knew or understood. It was a constant in a sea in a world of much change that has sometimes but not always been for the better. "An English bakery" in East Boston ? " people from away would incredulously question. " Yes" I would smilingly reply. "An English bakery in East Boston !"

Now to close with my favorite Betty Ann story: In the late 1950s the Pastor at Star of the Sea Church across Bennington Street was Father Leo Sullivan. Every Sunday morning at the end of the early Mass several of the attendees would bolt out of the church before final prayers and before he left the altar - a no-no then - to avoid the inevitable line across the street at The Bakery. One Sunday to remember, as they did that, irritated, he suddenly turned and shouted from the altar "Get me three jellies will you!"

Thank you again Billy.

<! -- Comments -->