News, Blogs & Misc.
Massport Approves $15.8 Million for Runway Rehabilitation


Project will resurface Runway 4L/22R and recycle old asphalt


BOSTON – The Massachusetts Port Authority (Massport) Board today voted to approve a $15.8 million budget repave Runway 4L-22R, as well as install centerline lights along the runway for enhanced pilot guidance. The goal of the project is to improve surface condition and drainage characteristics.

When work begins later this year, the 7,864 foot long runway will be repaved with warm mix asphalt. Runway 4L-22R is 150 feet wide.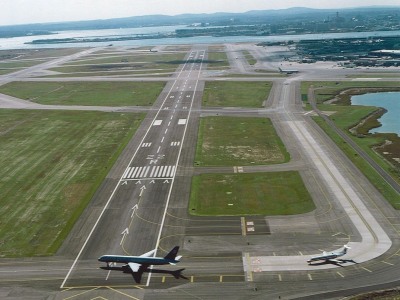 Logan was the first US airport to use warm mix asphalt on airfield projects. The so-called "green asphalt" is heated to about 75 degrees lower than traditional asphalt and uses about 20 percent less fuel, reduces greenhouse gas emissions by 20 percent and uses recycled asphalt in its manufacture. All pavement removed from the runway will be transported and recycled offsite for use on a future project.

The rehabilitation project is estimated to generate approximately 61 direct, 36 indirect, and 79 induced FTE positions over the course of 12 months for a total of 179 FTE employees.

"Safety and security are the top priorities for Massport," said Massport CEO Thomas P. Glynn. "We want to maintain our facilities to ensure the safety everyone who uses them. This project will help keep Logan Airport in great shape."

The project is set to begin in September and last for 30 days. During that period, the runway will be closed, so flight delays are possible, depending on wind conditions and the runway configuration in use by the Federal Aviation Administration.

Boston Logan, 30 minutes from the intersection of Route 128 and I-90 and 15 minutes from downtown Boston, serves as the gateway to the New England region and offers nonstop service to 76 domestic and 53 international destinations and in 2015 handled 33.4 million passengers. Boston Logan is served by two public transit lines. The airport generates $13 billion in total economic impact each year.

You can find us on Facebook at facebook.com/bostonlogan and follow us on Twitter at twitter.com/bostonlogan.

###

The Massachusetts Port Authority (Massport) owns and operates Boston Logan International Airport, public terminals in the Port of Boston, Hanscom Field, and Worcester Regional Airport. Massport is a financially self-sustaining public authority whose premier transportation facilities generate more than $15 billion annually, and enhance and enable economic growth and vitality in New England. No state tax dollars are used to fund operations or capital improvements at Massport facilities. For more information please visit massport.com.

Source: Matthew Brelis, Jennifer Mehigan
May 25, 2016 (617) 568-3100