<!Economics>
October 30: All Hands on Deck! A Celebration of Sea and Spirit with Boston Harbor's Piers Park Sailing Center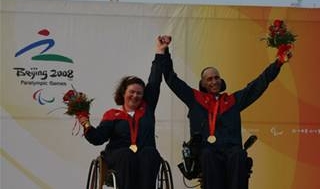 Event to honor the empowerment and spirit of adventure Piers Park Sailing Center brings to hundreds of at-risk youth and people living with disabilities through the joy of sailing

What: Boston's Piers Park Sailing Center will conclude its 2011 sailing season in style with an elegant brunch buffet, signature cocktails, a silent auction, and display of one of its fleet of sleek Sonar class sailboats. The event will honor Piers Park Sailing's commitment to the city's at-risk youth and celebrate the success of its adaptive sailing program, the foremost program of its kind in the Northeast.

Piers Park is home to the Paralympic Sport Club Boston, part of the US Paralympic Team's national network of training facilities, and US Sailing has named the organization "The Most Outstanding Program for Disabled Sailors" in the country.

Long-time board member Bob Brennan will receive a special recognition from Boston's Mayor Menino for his commitment to making sailing accessible to all. Guests will also enjoy an exclusive sneak preview and world premiere of the new television reality series, "Who Says I Can't," produced by Newton resident and adventure athlete Jothy Rosenberg. Guests can purchase tickets ($125 adults/$40 youth) by visiting www.piersparksailing.org/ahod or calling 617-561-6677 x 13.

Who: Paralympic 2008 Gold Medalist Maureen McKinnon-Tucker, Members of US Paralympic Sailing Team Alphagraphics, The Honorable Thomas M. Menino, Mayor of Boston, Bob Brennan, recipient of the Inspirational Founder Award, Salvatore LaMattina, Boston City Councilor, Frank Reynolds, CEO, CFO InVivo Therapeutics

When: Sunday, October 30th, 1:00-4:00 PM

Where: The Fairmont Hotel Battery Wharf
3 Battery Wharf, Boston


About Piers Park Sailing Center

Piers Park Sailing Center (PPSC) is the closest non-profit and recreational sailing center to downtown Boston, located at the heart of Boston Harbor in East Boston's newest award-winning waterfront park. PPSC's non-profit mission is to provide recreational, educational and personal growth opportunities for people of all ages and abilities, and its outreach program serves more than 700 of the city's most at-risk youth every year with a comprehensive curriculum of adventure, learning and empowerment.
PPSC's adult sailing club provides adults of all ages and abilities with affordable world class sailing and instruction on Boston Harbor and throughout the Boston Harbor Islands just minutes from downtown while helping to support the youth and adaptive programs. All of PPSC's programs have been nationally recognized for adaptive sailing accessibility. The adaptive program, led by 2008 Paralympic Gold Medalist Maureen McKinnon-Tucker of Marblehead, serves people of all ages with a wide range of physical and cognitive disabilitie