News from East Boston's best information utility!


Photographs from Third Annual Breakfast for Salesian Boys & Girls Club June 16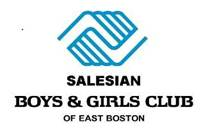 (East Boston) Three hundred and fifty people attended the Salesian Breakfast hosted by Richard Fields Family Foundation and Suffolk Downs last week.
Guests included businessmen, politicians from East Boston and Revere, families, and friends in what is becoming an annual event.
A breakfast buffet and live auction rounded out the morning.
Former Senate President Bob Travaglini served as the auctioneer.
The Youth of the Year was given to Mary Moran, a member.




Auctioneer Robert Travaglini, former Senate President.
The Don Bosco Award was present to Fr. Sid Figlia, SDB, former Executive Director of the Club. (L-R, Jim Correale, Fr. Sid Figlia, Fr. John Nazzaro and State Rep. Carlo Basile)
Richard Fields and Carlo Basile


Youth of the Year Mary Moran lauded. (L-R Board member Fred Scopa, Fr. John Nazzaro, Mary Moran and Tony Zambuto, Revere City Councilor)
City Councilor Sal LaMattina and State Rep. Carlo Basile.