<!Economics>
Malden/East Boston Youth Hockey Update

Having started 2016 with three teams competing in the Boston Mayor's Cup Championship games, Malden/East Boston (MEB) hockey continues to roll on in their winter session. The second session of our Learn-to-Skate and Play Hockey program is up and running, with a full roster of little ones. The program runs from January 13 to March 2, so there's still time to sign up. The Hockey Clinic is a basic learn to skate, learn to play hockey program, for both boys and girls, with two one-hour practices a week. There are three levels taught; learn-to-skate, basic skills, and advanced skills. The Clinic is held in two sessions, twice a week in East Boston - on Wednesdays from 6:00-7:00PM and on Sundays from 11:30AM-12:30PM.

Celebrating Chinese New Year this month, our MEB Pee Wee team had an opportunity last Friday to play against a visiting team from Beijing, China. Thanks to the Boston Bruins and Valley League, at 6:00 PM at the Malden Valley Forum II rink, the boys faced off in a friendly, international contest. The invite came as part of the Bruins newly announced expanded partnership with O.R.G. Packaging in Beijing - a forum "for cultural and sports exchanges through ice hockey." Along for the fun at the rink was Blades, the Bruins lovable mascot, who appears in the group photo. The final result of this match was a 5-0 win for MEB, a different story from the last time one of our teams played an international game when our 2010-11 Bantams faced off against Ukraine.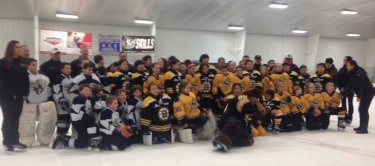 Stay tuned for more updates through the rest of the season, as our teams' next big adventure comes in another tournament in Marlborough later this month. Mites, Squirts, and Pee Wees will face-off against challengers from in and around New England in the Central Mass Winter Classic. Good luck MEB!

To register or for more information on Malden/East Boston Youth Hockey, or to learn how to enroll in the Learn-to-Skate program, please visit our website at http://www.mebhockey.com/Home.html
<! -- Comments -->
<ADVRT-LINK>

Tools
| | |
| --- | --- |
| | How-to Do-not-call list |
| | Useful Phone Numbers |
| | Resident Parking Sticker |
| | <! removed podlink> RSS Feed |
| | Traffic Updates |
| | Resident Discount Tunnel Transponder |
| | Recycling Information |
| | MBTA |
| | Zip Code Finder |
| | Contact Us |