News from East Boston's best information utility!
East Boston Artists Ready for Tenth Annual Open Studios Weekend

(EAST BOSTON - May 10) The tenth annual East Boston Open Studios will be held on Saturday May 18 and Sunday May 19 from 11:00am to 5:00pm. The work of over thirty-five artists will be on view at the Atlantic Works artist studio building at 80 Border Street, at 256 Marginal Street (Harbor Arts @ the shipyard) and at ZUMIX at 260 Sumner Street (open on Saturday only).

City Water Taxi is offering half-priced rides to HarborArts from the Long Wharf Pier in downtown Boston if you mention Open Studios!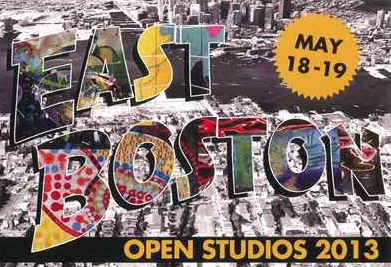 Original artwork will be available in all price ranges; choose from jewelry, sculpture, figurative and abstract painting, pottery, drawings, photography, and much more.

Participating artists at 80 Border Street include: Todd Antonellis, Elsa Campbell, Dominic Chavez, Chris Chou, Nick Costopoulos, Francois DeCosterd, Rick Dorff, JD Elliott, Jason Fitz-Gerald, Adrian (A.J.) Johnston, Kimberly Kent, June Krinsky-Rudder, Charlene Liska, Liz Nofziger, Maureen O'Connor, Jane O'Reilly, Moni Oolyonghai, Bo Petran, Juliann Rubijono, Anna Salmeron, Carmen Sasso, Pierre Victor, Jaye Woodstock and Neil Wyatt.

Participating artists at Harbor Arts include: B. Amore, Ndricim Bejko, Marie Cornuelle, Dennis Fox, Ava LeBlanc, Nina LeBlanc, Matt Pollock, Elizabeth Michelman, Marisol Berlin Santana, Lorrie Vega, Audrina Warren and Wendy Wolf.

Also on view is a two-person show at the Atlantic Works Gallery on the 3rd floor of 80 Border Street: "Vermillion Sands – New Work by Richard Dorff and Charlene Liska".

The East Boston Artists Group (EBAG), organizers of the event, is a volunteer organization made up of artists living and working in East Boston. Started in 2001, the group now consists of over forty members and has sponsored nine previous Open Studios events and numerous art exhibitions throughout the East Boston neighborhood.

This year's Open Studios is also a fundraiser for the Friends of the East Boston Library's art restoration campaign. Donations will be accepted to fund the restoration of four of the Frederick Leonard King paintings from the 1935 WPA series "Ships through the Ages". Please visit studios 121, 212 and 313 at 80 Border Street for more information.

For more information, please check the website at www.eastbostonartistsgroup.org or call 617-852-8671.http://www.eastbostonartistsgroup.org
Source:
June Krinsky-Rudder
May 10, 2012
617-852-8671