<!Economics>
Politics and Elections: The race for state rep 2015
Mayor Walsh nnounces "Borderless Bird" Painting Exhibition by Colette Bresilla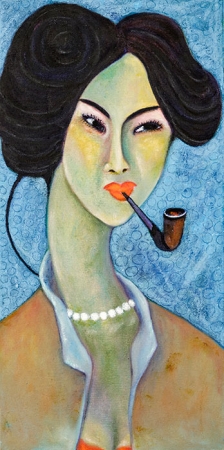 (BOSTON, March 27, 2015) Today Mayor Martin J. Walsh announced the Mayor's Office of Arts + Culture will feature "Borderless Bird," an exhibition of paintings by Colette Bresilla of East Boston. Bresilla's reflections on her Haitian–American experiences are reflected in her narrative painting style. From her women smoking pipes to her groupings of abstract figures, each painting has a mysterious story to tell. The exhibition will hang in the Mayors Gallery on the fifth floor of Boston City Hall from April 6th to May 15th, 2015.

"I am proud to feature artwork from a member of Boston's Haitian community," said Mayor Walsh. "Colette's remarkable paintings will undoubtedly inspire the public, and I hope everyone has an opportunity to stop by and visit."

"Creating 'art' is sometimes a channel of responding to the world we live in, by expressing the joy as well as the horror with the current state of social, political and economic affairs," said Bresilla. "My paintings are the result of such realities, which convey the sweetness and the bitterness of our everyday life. My inspirations are drawn from meditation, certain genres of music, reading, and observing people interact. Concentrating on the female figure, especially the Japanese geisha, being a Haitian-born Artist I try to explore and explode traditional conceptions of women, presenting the viewers with figures who appeal to and confound them. The drawings and lush paintings convey the undeniable realities of women's struggles across national and cultural boundaries. Also as a "Borderless Bird," I value the time I have spent in countries in West Africa and Europe, especially Paris, where my mind and eyes absorb what these rich cultures have to offer to inspire me to share what I have experienced through my art."
The Galleries at Boston City Hall are open to the public at no charge. Boston City Hall is accessible by MBTA via State Street (Orange and Blue lines) and Park Street (Green and Red lines). For additional information, call 617-635-3245, or visit http://www.cityofboston.gov/arts.
<ADVRT-LINK>

Tools
| | |
| --- | --- |
| | How-to Do-not-call list |
| | Useful Phone Numbers |
| | Resident Parking Sticker |
| | <! removed podlink> RSS Feed |
| | Traffic Updates |
| | Resident Discount Tunnel Transponder |
| | Recycling Information |
| | MBTA |
| | Zip Code Finder |
| | Contact Us |