News from East Boston's best information utility!
East Boston High School Speakerís Series features Italia Unita
Italia Unita and East Boston High School teamed up for a semester of speakers from January until May, where Italian and Italian American members from the East Boston community and beyond spoke with EBHS students on a variety of topics pertinent to work they are doing in their Italian classroom.
The students were exposed to the rich history and impressive achievements of local Italian Americans. Guest speakers included:
East Boston residents Rosario Cascio and Carmela Favorito who spoke about immigration from Italy and their experiences.

Carmine Guarracino who spoke about the area of aesthetics, particularly in his profession of Engineering.

Nicola Orichuia spoke about Global Challenges, immigration to Italy and the start up of an Italian American magazine.
Also, Mauro Pupin, the Educational Director from the Italian Consulate of Boston spoke about contemporary life in Italy and studying/working in Italy.

The lecture series was a collaborative effort by East Boston High School's Italian teacher Ms. Jessica Cronin Gorham and Italia Unita.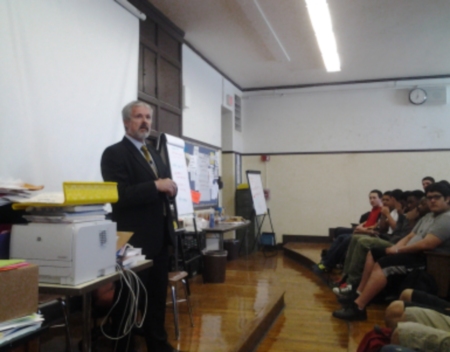 Educational Director from the Italian Consulate, Boston, Mauro Pupin with students and faculty at East Boston High School.