Archive 2001-2003 2004 2005 2006 2007 2008 2009 2010 2011 2012 2013 2014 2015


MERRY CHRISTMAS EVERYONE! We're taking a break. For updates see our sister site East Boston News. We'll be back on 12/29 getting ready for our 20th year of public service.

ONE OF OUR OWN, ONE OF OUR BEST!
Politics: Basile set to join Baker administration as chief secretary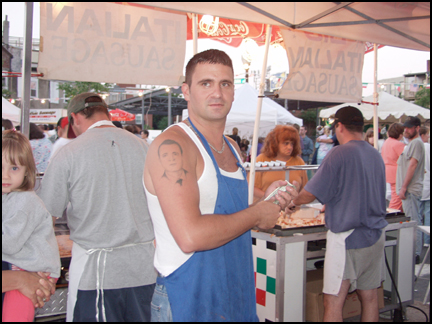 Students from the East Boston Central Catholic School sang holiday songs for passengers at Logan Airport last Friday.




Italia Unita to collect toys for Italian Home for Children, Crossroads. Individual gift list for Italian home.

East Boston Deep Freeze Tournament: (at Porrazzo Rink, Orient Heights)
Friday, Dec. 26 Mystic Valley vs. East Boston, 4 Ashland vs. Salem, 6 Saturday, Dec. 27 Consolation, 4:40 Championship, 6:40
NOAH: Banquet set for Dec. 18.
Fernando Fernandez-Arellano, Our Lady of the Assumption, East Boston to be honored by Cardinal Sean O'Malley

Curbed Boston: Planned 135 Bremen Street Joins East Boston's Moment
News: BG: Police say youth reached for gun in waistband as he struggled with officers in East Boston

News: Companies pay $430,000 to settle wage case

How East Boston voted on the four ballot questions in 2014. Results.

News: EB Visitor Center and Museum newsletter #5 is now out! Read it here.
BH: City's cabbies not feeling Uber. Council holds hearing. Old v. New.

R.I.P. JP's Wiliam "Willie" Ferullo, activist and husband of the late Lucy Ferullo comprising the "dynamic duo."

Sports News: BH: Eastie's Joel Pastrana among High School Stars of the Week.

News: BG: Even with no casino, Revere focuses on new uses for old racetracks

Business News: Insider Buying: Meridian Bancorp Director Buys 3,000 Shares of Stock (EBSB)

Can someone tell Boston Globe Direct to stop polluting our neighborhood?
Enough is enough! Lower Chelsea Street littered with Globe circulars? Who reads them?

EBBPL: New library now one-year old.

Business News: East Boston Chamber Of Commerce Announces 2014 'Prosperity Award' Winners

Dec. 6; East Boston Winter Market.
Crime news beat: CBS4: Police Seek Attacker In Reported East Boston Sexual Assault; More from BDPNews
Eastie keeps winning: East Boston 24, South Boston 6

Eastie Southie T-Day Tradition. EB has not lost since 2008.

Not naked in court: Ordered held for attack.

On Ferguson: Bostonians voice views.

Crime News: Man held on sexual assault, robbery charges.

Crime News: Naked man arrested at Logan for assault on elderly man

Crime News: WCVB-TV: Man arrested for sexual assault, robbery
Politics:
Basile holds onto State rep seat; Baker wins Governorship.
Coakley carries Eastie by 1350. State Rep & Gov results for EB
State rep:
| | | | | |
| --- | --- | --- | --- | --- |
| CARLO BASILE | | 4959 | | 76.07% |
| C. B. RIBEIRO MYERS | | 1531 | | 23.49% |
Gaming Vote: BH: Casinos here to stay
Meridian Bancorp, Inc. Reports Net Income for the Third Quarter and Nine Months Ended September 30, 2014



Resident Parking Expanded:
Horace, Homer, Moore...


This just in:
Massport Contributes $170K to East Boston Health Programs
Basile Family's Thanksgiving Dinner. Free to all. Nov. 27.
Turkey Time! Stop & Shop to delivers 250 Turkeys to YMCA of East Boston Nov.13 in Time for the Holiday Season
Greenway Meeting: Nov. 20 Agenda

Today: Bay State Chapter of Freedoms Foundation to Present George Washington Honor Medals: Nov. 15; Tauro, Danvers-based Operation Troop Support, Scarpa,
Frattaroli to be honored
"Last house standing," EPA Photographer M.P. Manheim at EB Library: Nov. 20


MAR's Maverick Community Brunch: Tuesday, Nov. 18, 11:00 am - 12:30 pm at the Maverick Landing Community Center 31 Liverpool St.
Jeffries Point Neighborhood Association Planning and Zoning Meeting Nov. 19
At Spinelli's, Pirandello Scholarship Drive hosts Wine Tasting Event Nov. 16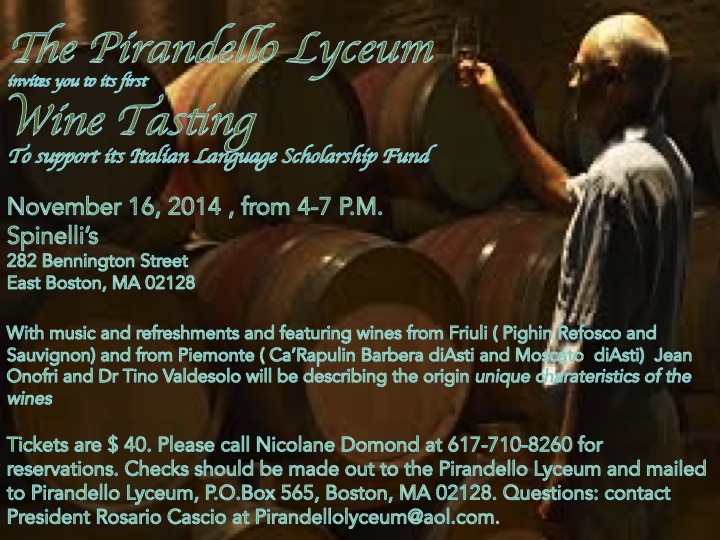 WGBH: With Ballot Question 3, Massachusetts Voters Have a Choice On Casinos
New England Revolution Players Join America Scores at Santander Clinic at LoPresti Park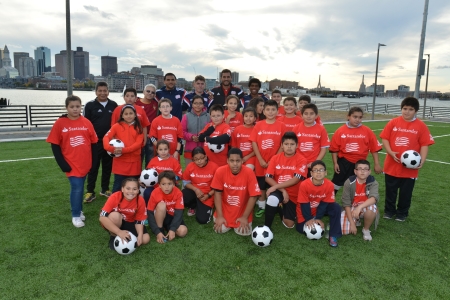 Massport: Logan Runways 4R and 22R Set for Needed Repairs

News: East Boston Branch of the Boston Public Library Awarded Prestigious LEED® Green Building Certification

Municipal Research Bureau weighs in on proposed pay raise for city councilors. Details
R.I.P. Tom Menino. Mayor of America Former mayor loses battle to cancer; EB residents react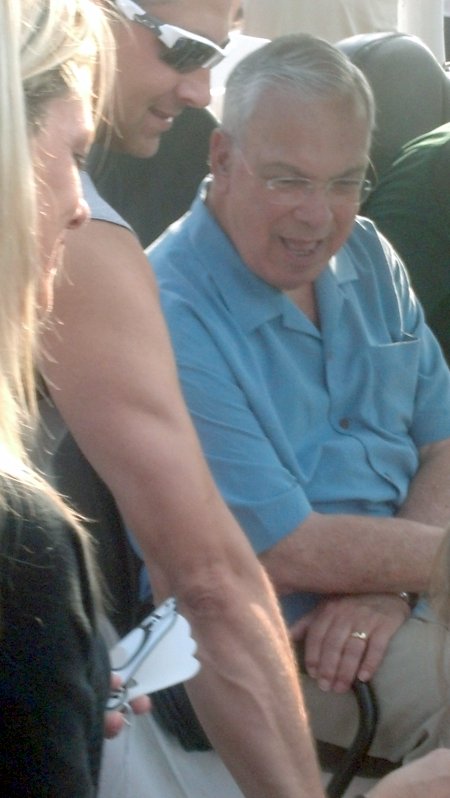 Mayor Menino at Eastie Pride Day, August 2013, photo: Frank Conte



Gloucester Times endorses D'Arcangelo:
"a fresh face with new ideas, challenging a system that has remained too stagnant for far too long."
Opinion: Vote Yes on 3 to Repeal the Casino Deal

What we saw at the Columbus Day Parade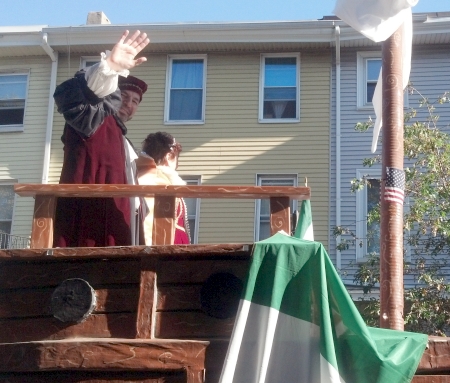 Tribute: "Columbus should be honored, for in so doing, we honor Western civilization"

Ray Flynn in the Pilot: Vote your values
"In an era when our nation's values and traditions are under attack both in the United States and abroad, patriotic Americans and people of faith must unite and vote with a united voice to help reverse the growing decline in our radical secular culture."



Visitors Center and Museum Group to hold meeting on Nov. 3

The Pilot: Leadership forum strategizes on 'protecting families' in casino fight
October is Italian-American Heritage Month
Brattle Bookshop's Ken Gloss is coming to East Boston Public Library: October 23.
NYTimes Photo Essay: Last day of racing at Suffolk Downs.

News: BH: Casino repeal campaign deals with cash shortfall

BBJ: Suffolk Downs would reopen in 2015 after all under horsemen's last-ditch plan

News: ABCD urges immediate release of federal fuel assistance funds

Green News: Project Oscar and the City of Boston's Pilot Composting Program; Register Now!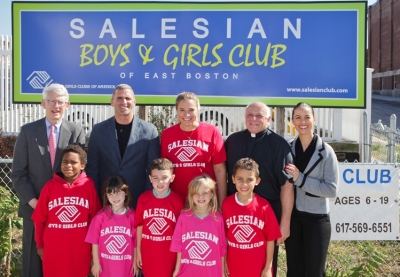 Massport donates to Salesians
Saratoga St. Fire: 34 displaced in $1 million fire with 2 firefighters injured.
BH: Probe into fatal Boston fire that left 30 homeless
R.I.P. The great Anthony Albano, loved by many! Herald Obit.

Read John Nucci's tribute in the Boston Herald.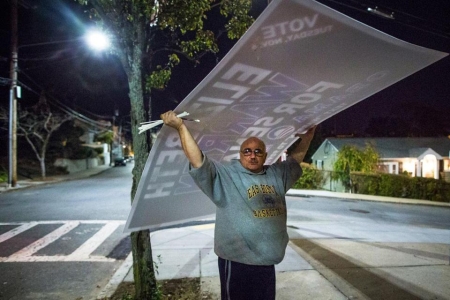 State rep debate set at EBHS for Tues, 10/21 Basile v. Myers Background: Coverage of first State Rep. forum SHNS
EastBoston.com Post-election Exclusive: How East Boston voted on Sept. 9 Primary; Coakley, Baker carry Eastie. Results

JP Planning and Zoning Meeting slated for 10/22
State election results for Boston from City Hall here.
Gaming Guru: Top-10 reasons the Massachusetts Gaming Commission got it right in Boston Everett
EastBoston.com: What we saw at the Harbor Arts Festival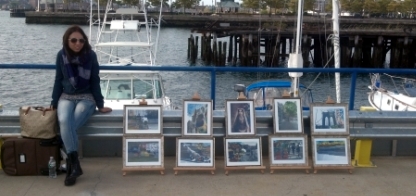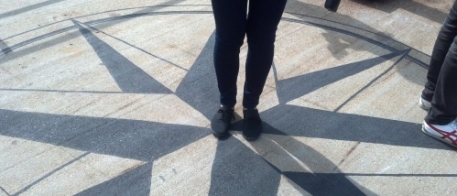 After the vote: Coming up with a plan. Visioning group sets guiding principles for future development at Suffolk Downs.
Biz News: BG: Trends in Local banking

Hot Market: Boston Home News "Median sale prices have been inching upward in East Boston"

Bed bugs in EB: Look at the map!

News: BH: Breaking Barriers: For gold-medal mom, an ocean of opportunities

BBJ: Walsh expands zoning resources for small business and property owners

Biz News: BRA Research releases Boston's Neighborhood Business Pattern
RIP Albano; Arrangements: Wake at EBHS; Funeral St. Anthony's Revere.
Post Parade Wrap-up: Countdown to Kindergarten.

Sorry Suffolk Downs: MGC chooses Wynn. Boston.com: Wynn to get Boston area license

News: NOAH Holds Groundbreaking for Coppersmith Village in East Boston
Report: 2 shot on Meridian Street

East Boston APAC to hold Job Fair: Oct. 16
Politics: State Representative Candidate Forum "Our Community, Our Future" Sept 30, Maverick Landing
Suffolk Downs: BG: State seeks to keep door open for thoroughbred racing
Losing effort means the end of horse racing at Suffolk Downs.
More coverage: WBUR

BBJ: Gaming panel gave minimal weight to saving Suffolk's horse-racing jobs

Lifestyle News: BosMag: East Boston Is Getting Its First CrossFit Box

Mayor Walsh Expands Boston's Community Compost Program with New Pilot Details

Harvard profs, local clergy speak out against casinos at Cambridge event on 9/22.
Sunday: Zumix Run to the Beat 5K - Race on the Greenway! Sunday, September 21, 2014 - Race at 9am, Registration starts 8am
Sept. 30: NUBE to hold first state rep. forum/debate; Details
Gaming News: BH: Wynn could pay fraction of Sullivan Sq. redo cost

Massport Awards Annual Memorial Scholarships. Read more at eastboston.com

The tall ships are coming and the views from East Boston will be spectacular!

News: BBJ: East Boston cleaning company ordered to pay $750K for wrongful deductions from worker paychecks

Here's comes Eastie:

BisNow: Real estate observers: Eastie's time has come!

Curbed Boston: New Street Project "brings a touch of Ft. Point to Eastie"

BBJ: 16-story tower on East Boston waterfront wins BRA approval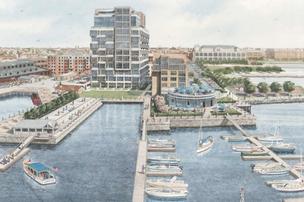 Arts & Culture News: Latest from EB Visitor Center & Museum

LONG-AWAITED LOGAN STUDY NOW PUBLIC! The Logan Study involved interviews with more than 6,000 adults living within a 5-mile radius of the airport evaluating potential health impacts of air pollution and noise on residents in 17 communities within the study area. Study (PDF) Globe coverage
Harborfest on EB Waterfront is Sept. 20 & 21 this year.

Virtually beating the old boys network in Ward 1. Dem AG nominee Maura Healey came within one vote of establishment candidate Warren Tolman in EB. EBDOTCOM Breakdown. Impressive!
Politics: State Rep. Candidate Celeste Ribeiro Myers Blasts Opponent For Pledging to Defend East Boston Casino Vote, Then Accepting Thousands from Casino Lobbyists

It's Baker v. Coakley. Arroyo beats out Campatelli for Probate citywide and in Eastie
HarborArts Festival 2014 Soul Clap and friends to be featured

UMass Lowell: "Repeal the Casino Deal Q3" trailing to well-financed pro-gaming opponent

Gaming Politics: BH: Mayor Martin J. Walsh said today the casino panel has a "bias" against Boston.
Gambling News: BG: Mohegan Sun may have violated deal with Palmer landowner

Gaming politics: Mayor accuses Gaming Commission of `bias' against Boston
Yes winter is coming. Get ready to save on heating costs with library talk 9/15.

South End News: In Eastie, at Maverick Walsh greets new BPS transport plan

Wed: JPNA Planning & Zoning Meeting
September 17th @ 7pm
Jeffries Point Yacht Club 565 Sumner St.

East Boston APAC Community Hero Mary Cahalane to be honored at ABCD Community Awards on Sept. 16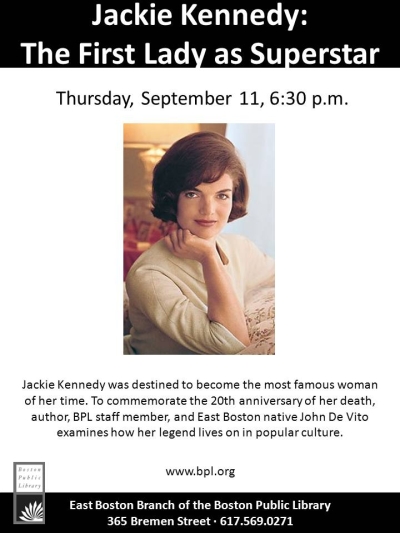 D-Day is coming this week. Gaming Commission to decide Boston area casino

Jeffries Point Neighborhood Association to Meet September 9. Details

"Where's Marianna - undi è Marianna? " A Children's Book written by East Boston local Lisa Cappuccio


Fans of "Where's Marianna?" line up to get a signed copy from author Lisa Cappuccio on Monday, August 4, 2014 at East Boston Library (Photo:EastBoston.com)

Book Signing (8/4)




Profile from the Herald
Latest Poll 8/2: UMass Lowell shows Coakley in front comfortably. But only 48% of likely Dems think she will be the next governor.
What's with this? TechDirt.com: Boston Police Used Facial Recognition Software To Grab Photos Of Every Person Attending Local Music Festivals Smile you're on camera!
News: Joseph Ciampa Community Garden wins citywide contest

Crime News: Malden man held on murder charge after confrontation in East Boston.

Politics: Former Mayor Ray Flynn honored at State House. Addresses House where he once served.

Gaming Politics: BH: Mayor Martin J. Walsh said today the casino panel has a "bias" against Boston.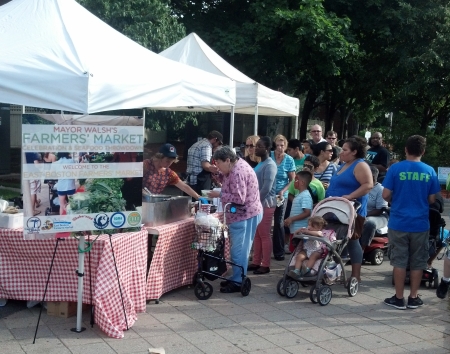 East Boston Farmers' Market is back at Maverick Mall Every Thursday. (Photo: eastboston.com)
Politics: Cheung Statement on Suffolk University / Boston Herald Poll

Politics: BG: Basile-Myers Epic Battle Centers on Casino push

News: Massport Celebrates Opening of Greenway Connector in East Boston

News: Jermaine Wiggins' new radio gig


East Boston Main Streets announces 14th annual Countdown to Kindergarten Parade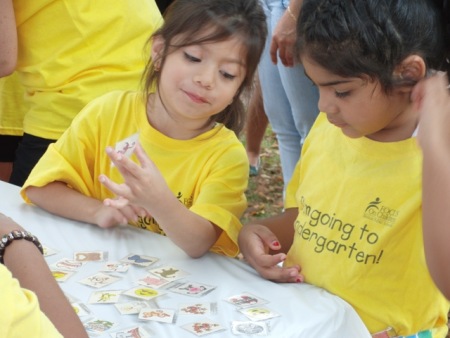 Politics: Candidate for Suffolk County Probate John Sepulveda launches web site.
Tuesday, September 9 is state primary election day. Get out and vote. Where to vote in EB.
East Boston and Revere Casino Opponents to Boycott Final Commission Hearing, Calling it an 'Illegitimate Sham,' and will Throw Full Energy Into Repeal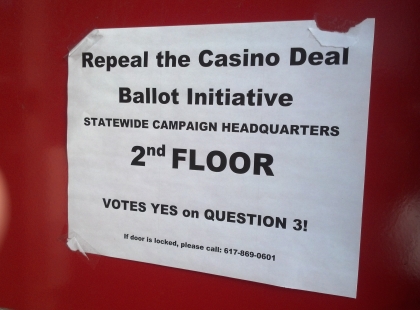 Family sets up the Wally Bowe Fund to benefit Salesians Boys and Girls Club: April 11
It's here (again): West Nile Positive Pools Found In East Boston

Crime News: Melrose Man Arrested in EB For Alleged Carjacking In Revere

Dope Policy: City addresses public bathroom ODs

Politics: Basile campaign issues response to Ribeiro Myers debate invite

R.I.P. Joann Cardinale, Piers PAC member, activist

Tattoo on the wharf: BosMag: East Boston Pier Is Getting Public Art 'Tattoos'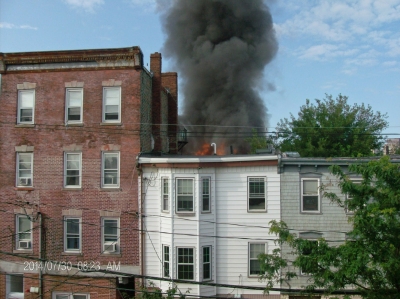 Photo courtesy of Galen Gilbert


News: Firefighters Battle Six-Alarm Blaze In East Boston; More from CBS Local: 20 displaced. More from WBUR

Father saves six; A hero in our midst

7 News: Fire cause by electrical malfunction
Play ball: Sox staff visit East Boston stadium; tutor locals

Crime News: Shots fired near Prescott St. early Tuesday 8/5 UH


Crime News: East Boston couple accused of robbing cab driver
---
Done deal: Globe: Boston, Mohegan Sun near deal on Revere casino; East Boston won't be able to vote on project; financial details of pact being worked out
---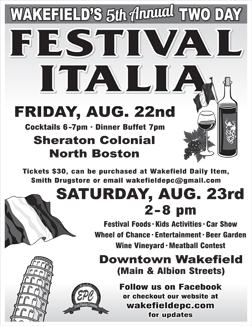 Mark the date: The Jeffries Point Summer Sidewalk Sale: Sunday, August 17, 2014 11a - 5p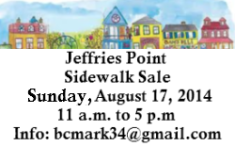 What's Happening at the East Boston Branch: CityLab Science visits with three day program Aug 19-21.

Eastie Pride Day is Saturday 8/16.
Marion Street Fire: No one hurt in early Friday morning blaze. Coverage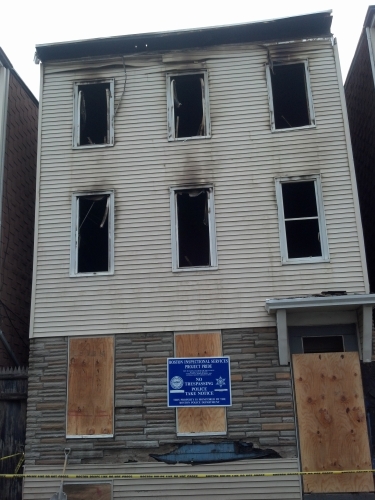 Biz News: Gov. Patrick urges Market Basket workers to return

Eastboston.com is taking a brief vacation. For updates check our Twitter feed and East Boston News.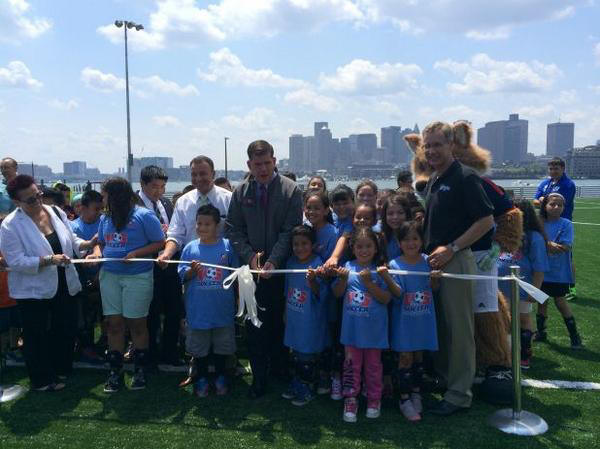 Walsh cuts ribbon at refurbished LoPresti Park
EAST BOSTON YOUR VOTE DOESN'T COUNT
Local Veteran takes Honor Flight. Jim Aloisi WWII vet
Public Safety Meeting: NUBE July 30
Of interest: BH: Conte: Bay State benefits from foreign trade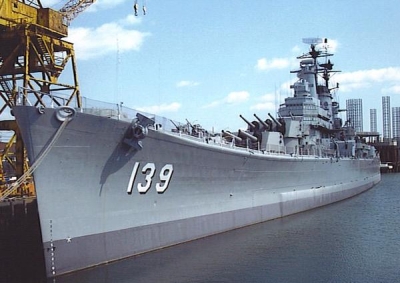 Patriot-Ledger: Quincy ferry terminal sale means USS Salem to be docked in Eastie in 2015 More from BBJ
TODAY! Greenway Celebration Aug. 21
Campaign 2014: Myers launches campaign for State Rep on Thursday 6/26; Pledges to 'Put Community First'
B&T: 34-Unit Apartment Project Approved In East Boston
Globe Editorial: East Boston should lobby MGC.
News: Maverick Marketplace Receives Prestigious Award From Boston Preservation Alliance Historical building at 154 Maverick preserved.
Politics: BG: Campatelli draws five challengers for register of probate post
Ramping up opposition to casinos: Conditions are Ripe for David to Beat Goliath on MA Casino Law, Press Conference Called For at Harvard University July 15 Herald story Religion and Politics do mix: BH: Churches crucial to casino fight

Real Estate: Cutting Edge Condos dock in Eastie.
Business News: Meridian Bancorp, Inc. Completes Syndicated Community Offering
Update: Herald: Clergy against Casinos Video: Statement
Walsh signs it. Details. Basile supports.
BG: Money in deal for EB: $18M
Ribeiro: "We hoped for more from Mayor Walsh"
Repeal The Casino Deal: Casino lawyers in pitch against ballot question scale back job estimate
Random East Boston!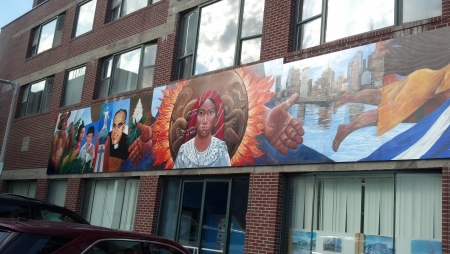 The mural at the El Salvadoran consulate on Bennington Street (Photo:eastboston.com)
All hail Frankie! Let's hear it for Frankie Spolsino and community spirit!
July 24: Greenway Meeting
Crime News: DA: Suspect Charged in Alleged East Boston Arson
News: Missing man with Alzheimer's
Education News: High percentage of immigrants sent to special ed BH
Latest Gambling News: Boston Compensation from Wynn Everett Down to Commission
Now Open to the Public!
The new East Boston Greenway Connector, built by Massport, opened for public use this week. The new path connects from Frankfort & Lovell Streets (just beyond Bremen Street Park) to a scenic vista at the Wood Island Bay Marsh, three-quarter miles away. So walk, run and enjoy the new Greenway - this is an exciting community asset years in the making
EB man drowns in Lake Winnespeauke, NH
Walsh to mark LoPresti Park rehab July 22. Soccer and much more!
Advertisement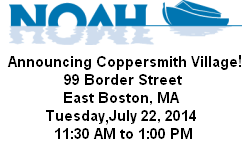 Click here to register. You must register for this event!
Bummer of a Summer with no classic EB slush!

It's Slush Time Again, classic Bennington Street hole in the wall, is closed for 2014.
REDESIGN OF CENTRAL SQUARE: Doc Depot.
Community Update: Massport announces the re-dedication of the Anna DeFronzo Center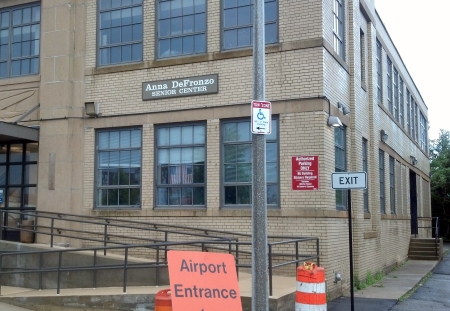 Update 2: Investigation into fatal East Boston shooting continues
Update: Channel 7 BPD identify: "Walter Cook": Police investigate Sunday afternoon fatal shooting at Brandywine Boston.com; WCVB-TV; CBS4
Video: East Boston speaks at Massachusetts Gaming Commission Hearing
BH: Dispatch from Tuesday's Gaming Commission hearing.
The making of a new opinion leader: Repeal the Casino Deal's John Ribeiro; BH Profile "Bingo he's the guy! "
News: East Boston Main Streets Honored By Boston City Council
Andy Vo of East Boston awarded 2014 Thomas R. Pickering Undergraduate Foreign Affairs Fellowships. More
Metropolitan Beaches Commission Releases Report On Boston Harbor Region's Beaches
Hot Real Estate in EB: Curbed 6/2: Five Figures Over for Eastie Townhouse That Sold in One Day
JPNA Meeting set for July 16. Agenda
Obit: Sister Mary Agnes Wall, 97, a Sister of Mercy in NH, A native of East Boston
A classic: JFK reading the Declaration of Independence
Business News: Ducali Owner May Open New Restaurant in East Boston
---
Beyond biofuels on rails: The Ethanol Disaster: America's renewables policy is bad for consumers, the environment, and the global poor.
Sports: East Boston Little League Home Page
Hold on! Rep Basile Calls on Massachusetts Gaming Commission to Delay Awarding Casino Licenses Until Voters Have Their Say
It's story time with Carlo! State rep to read to children's group. Sat: June 28 at 11:30

Hold on says Walsh! BG: Walsh seeks delay on casino decision: Wants state panel to wait until after November elections
Update: BH: Parishioners vow appeal to Francis
Gambling News: WGBH: East Boston, Revere Reacts To Casino Ballot Question
DRF: Repeal of Massachusetts casinos allowed on ballot
Crime News: BH: 2 men get life sentences in 2012 bank robbery
News: CBSLocal: Doctor Saves Driver's Life After Heart Attack In East Boston
Business News: CBRE/New England facilitates $1.6M sale of East Boston industrial property to NOAH which will be converted to transit-oriented residential
To the post! DRF: Suffolk, horsemen reach dates deal
Political Economy: WGBH: Boston's vanishing middle class. Worth a read.
Business News: Sampan: Boston community groups protest in Dorchester
Business News: B&T: East Boston Savings Bank Parent To Begin Community Stock Offering
Think hard about this one: Can East Boston handle Logan-related traffic in 2024 Olympics? WCVB doesn't cover this but should in the future.
Problem at Suffolk Downs: DRF: Horses isolated after EHM death
Business News: BBJ: Developers cite land and labor costs, lack of subsidies, for Boston's housing shortage
We remember views like this.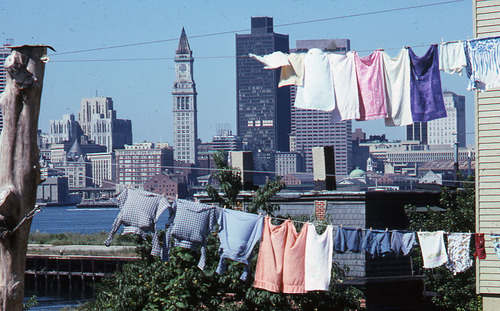 City of Boston Archives, Peter Dreyer.
City Census Time. Make sure you file! Details
BPD News: One Less Gun: Four Arrested and One Firearm Recovered in East Boston
Uber Tests On-Demand Water Taxis in Boston Harbor
Alt-paper Dig Boston doesn't dig EB development: DigB 6/4: Summer Blight-seeing: An abridged tour through pre-developed Boston
R.I.P. Judge Russo, First Justice EB District Court
WSJ: No American document has had a bigger global impact than the Declaration of Independence.
July 9 Meeting on New Street Development
No Go: BH: Gaming Commission shoots down Walsh request for license delay
News: BG: Three firms want marijuana bids to get new look
Law Day 2014 at the East Boston Municipal District Court: Slide Show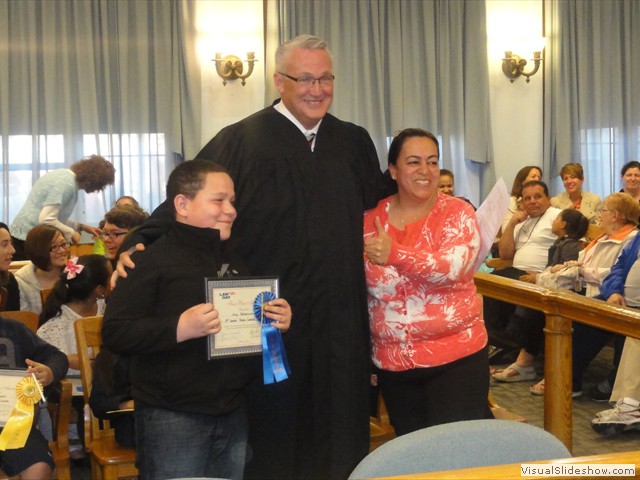 Throwing in the towel: BH: Marty Walsh: Host-status bid 'basically... off the table'
WORLD CUP FEVER AT THE OTIS BH: Kids on top of the World.
TODAY: MASS GAMING COMMISSION FINAL PUBLIC HEARING BEFORE CASINO SITING DECISION Tuesday, June 24 at 4pm at Revere High School, 101 School Street
Chamber of Commerce launches Small Business Summit: June 24
Public Meeting. Greenway council to meet on June 26 Agenda
Freedoms Foundation New Installation of Officers to take place June 28.
What to do with the old branch library? Tell the city on June 19. Details here at eastboston.com. Where are the preservationists? And will the City listen?
Father's Day Food Festival set for Sunday from 1 to 7 p.m. at Maverick
JPNA Meeting Agenda for June 18th, at 7pm
Politics: GOP Ward 1 Committee to meet June 17th.
BPD Superintendent Gross to address Kiwanis InterClub on June 17.
Think hard about this one: Can East Boston handle Logan-related traffic in 2024 Olympics? WCVB doesn't cover this but should in the future.
Relay for Life set for June 13. Details.
Government Failure: Students apparently think salads suck! BG: Once-hailed salad bars gone from city's schools
It's here! First Ever Eastie Week kicks off in East Boston June 6-15. Read more here at eastboston.com and at the Boston Harbor Association; Events
Fox: Firefighters respond to East Boston home after part of wall collapsed
Tonight Eastie Pride! Local LGBT and Supporters to raise Rainbow Flag on June 13. Read more here at eastboston.com
DiCara, former Boston city councilor, discusses his book at East Boston Library on June 9 @ 6 p.m.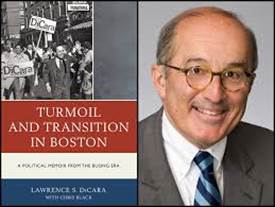 Crime News: Police arrest EB suspect in grade-stick robbery in NH
Traffic Update: BHI: Overpass traps 2 big rigs in 2 days
Traffic woes: Another truck stuck under overpass. More from BH: Meanwhile, BG: Car catches fire CBS Local coverage.
Mayor Walsh visits East Boston (May 22) Listening tour at EB Stadium.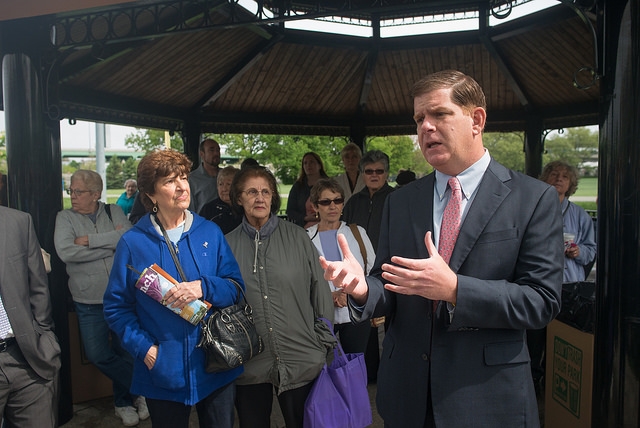 The wee hours: Mayor Walsh's Late Night Task Force is Underway
BBJ Preview: Who's driving East Boston's red-hot housing market?
Business News: Meridian Bancorp, Inc. to Commence Stock Offering
BriefingWire.com: YMCA East Boston Adds Farming to Youth Programs
Basile speaks out on national VA scandal BH: VA 'system failure from top' Feds blasted for scandal at veterans hospitals
No one is really surprised. BG: Suffolk Downs offers to abandon racing for casino
QPL: USS Salem to leave Quincy for East Boston: More from Quincy Sun: EB Bound

Politics: State Senator Anthony Petruccelli Endorses Leland Cheung for Lt. Governor
East Boston residents asked to complete quality of life survey for community health assessment. Details
Last lap for Suffolk Downs racetrack? BBJ: Suffolk Downs warns that this could be the last season for live horse racing
The Race: Race down the East Boston Greenway! EBG Race 3rd Annual Let's Get Movin' New Balance Foundation Walk/Run for Fitness Saturday, May 31, 2014
Friends of East Boston Greenway Meeting Thursday, May 29, 2014, 6:30 - 7:30 p.m. East Boston YMCA, 215 Bremen Street All are welcome. Agenda.
BH: Nucci: Restart the whole casino select process
EB Main Streets: Thank you to all the volunteers who made East Boston Shines a success
Walsh-Mohegan Pow Wow. Details
BG: Former Patriot Jermaine Wiggins gives pep talk in Southie
Daily Item of Lynn: EB man sentenced for 2011 fatal Lynnway crash; Will serve 1 1/2 years before deportation
In Eastie, Mayor Walsh Announces Universal Pre-Kindergarten Advisory Committee. Press release.

Politics: Celeste to run against Carlo Herald.
Hawking hotls and casinos: BH: Attorneys aiding Boston, hotel developer
Updated: Statement of Mayor Walsh on Gaming Commission decision that Boston not a host city. Details
BG: Boston fails to reach agreement with casino operators
Host. Host. Host! Boston is a Host Community says #NoEastieCasino backing Walsh.
News from Main Streets: EBMS Announce This Year's East Boston Main Streets' Volunteer of the Year Recipients
TODAY! May 22: Free Immigration Clinic: Legal Consultation; Paris Street Community Center
Eastie Week kicks off Summer on the Waterfront on June 6th
This past Tuesday's 5/20 traffic jam explained. UH
JPNA Planning Meeting 5/21. Agenda
Boston clergy to Walsh: Heed the people's vote.
East Boston Main Streets Successfully Kicks Off Small Business Institute
NYTimes visits EBNHC Reports on Ch. 58: Mortality Drop Seen to Follow '06 Health Law
Piers Park and Bremen Street Park Improvements
BG: State's highest court to hear casino law repeal case
CCAG Praises Legislators on Ethanol Train Regs.
Meridian Interstate Bancorp, Inc. Reports Net Income for the First Quarter Ended March 31, 2014
EASTBOSTON.COM STATS: January 2014: Avg. Daily Pageviews: 1,840.23 Average Hits Per Day 3,605.55
Front-running: 5/6: Mayor Walsh will make an announcement relative to Universal Pre-Kindergarten Early Education. Patrick J. Kennedy School, 11:00 a.m.
City of Boston Animal Care and Control Launches Online Licensing for Dogs: May 3 for Eastie
May Day: May Day Celebrated in Chelsea with Calls for Immigration Reform, Higher Minimum Wage
Public Hearing: MADot on Vent Buildings: May 12
Good Friday in East Boston.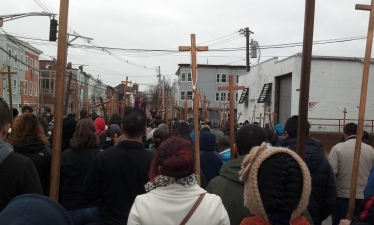 Local Catholics form procession on Sumner Street en route to all churches in EB Photo credit:eastboston.com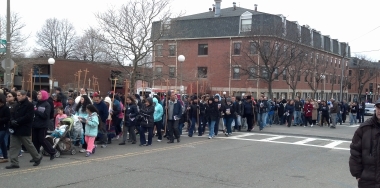 photo: eastboston.com
Update Small Property Owners Assocation joins fundraise efforts for Lex. St. fire.
Herald: Mayor Martin J. Walsh to move on enforcing residency rule
Update: Local 26 joins in to help fellow union members who became homeless as a result of Lexington Street fire. More: Online fundraiser.
News: Mayor Walsh Increases Funding for Boston's Main Street Districts
Wally Bowe Fund Event for Salesians! A success! Carlo Basile's touching tribute. More than 300 attend. Corner of Bennington and Byron to be named after youth leader. Also to be named in memory: new room at Club.
Calling all hockey players! Needed for Roller Blade Hockey League at Porzio Park:
In the works. Roller hockey league planned for Porzio Park. Attention all hockey players. Spring is here and with that we have the arrival of the all new Spring/Summer 2014 Eastie Street Hockey Series. Competitive 4 vs 4 pickup games will be played Saturday and potentially Sunday afternoons at the roller rink in Porzio Park. Must be 16+ years old to play, and gloves and roller blades (no stoppers) are required. If interested, please contact Dan Higgins at dhiggs06@gmail.com to find out more details, and spread the word!
Eastie Shines with Clean-up on Sat. May 10. Details.
Update: Local 26 joins in to help fellow union members who became homeless as a result of Lexington Street fire. More: Online fundraiser.
Support BPS Families Displaced by Fire in East Boston On April 9, a fire damaged several homes in East Boston. Among those displaced are BPS students. This site was launched to support them and their families as they work to rebuild. More
Fire: WCVB-TV: 30+people affected by 8-alarm East Boston blaze: Car fire spread to neighboring home, officials say
More coverage: WHDH-TV: 8-alarm East Boston fire started in parked car
BFD Twitter Feed :
BFD Twitter Feed: "Fire started in this car then extended into basement and up"
Rep Basile supports House, Senate VALOR Act II: Legislation strengthens 2012 VALOR Act and enhances commitment to Commonwealth's veterans
Gamesmanship! Walsh makes a move! BH: Boston calls on Crosby to recuse from casino license decision BG: Recuse
Crime News: Boston police identify EB homicide victim
Coakley's folly! Healy, former aide & AG candidate, supports ballot question. "I am not concerned about the well-being of casino operators. I am concerned about the well-being of the residents of Massachusetts." Well-said.
What's with Walsh the union man? BG: Walsh refuses to release details of firefighters' contract
Political News: East Boston Republican Ward Committee to meet May 4.
Latest News: BPD News: Death Investigation in the Area of 282 Border Street, East Boston
Casino News: DeLeo v. Walsh on Boston as a "host' community.
Sorry CBS Local. We had the photograph first.
News: Affordable Housing Preserved for Senior Citizens at Victory Gardens
All good things must end. Champs! EB-Malden Youth Hockey wraps up season
Big Debt Issue on Favorable Terms. City's sound bond rating.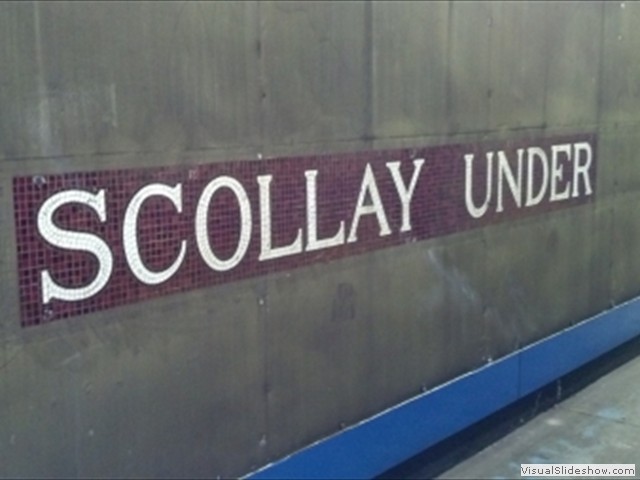 Blue Line Blues to Follow? Government Center Station closes for 2 years. Slideshow from eastboston.com
Commonwealth Mag: State seeks more data on Revere casino impact; Mohegan Sun insists project timetable intact; Related: Commonwealth Magazine: Aloisi: Revere Only Casino Insults East Boston
UH: Boat moored at East Boston dock goes up in flames
Thank you for all the memories! Al's Shoe store to close this weekend
Walsh wields a big stick: BG: Walsh questions power of gambling panel in dispute
New hire! East Boston Main Streets has hired a Director for the Small Business Institute
Latest: BH: Boston seeks do-over on casino designs
Business News: Mount Ida College Announces East Boston Savings Bank Scholarships to Students
Tech News: DigitalJournal: Spray Applied Waterproofing System Allows Boston Tunnel to Open Ahead of Schedule

A bubble in Boston? BH: Endangered: Boston condos under $500G
Land Use Council now accepting grant applications for Lenny Florence Fund. Details.
Map Exhibition Opens at Boston Public Library. Exhibition tells the story of a "new" Boston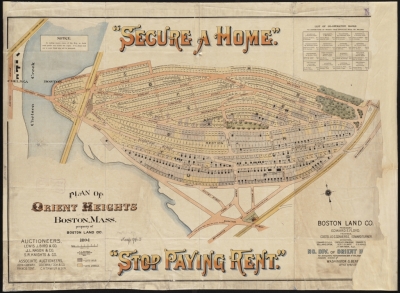 Business News: Bostoniano: Sterlingwear of East Boston Announces Partnership with L.L. Bean
---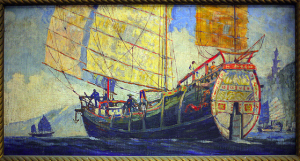 Ships Through the Ages, by Frederic Leonard King
BH: Nucci: Mayor aces casino panel play
Walsh: East Boston, City of Boston "intimately related and cannot be disentangled from the Suffolk Downs site,"
EB Museum and Visitor Center Planning Meeting: Monday, April 28th
6:00 - 7:30 PM Maverick Landing Meeting Room 31 Liverpool Street
NOW SET FOR 4/25: East Boston Main Streets holds primer on business permitting: Meet city councilor Michelle Wu on April 25 at EB-BPL
Friends of East Boston Greenway Meeting
Thursday, April 24, 2014, 6:30 - 7:30 p.m.
East Boston YMCA, 215 Bremen Street. Agenda.
BG: Decision on Boston area casino license could be delayed
BG: State orders environmental review for SD casino
Traveling City Hall To Go to show up in Maverick Square on April 24. 12:30-2:30 p.m.
Planning and Zoning Meeting: April 23. Details
News: Early morning 132 Bennington Street Fire displaces 9: Details.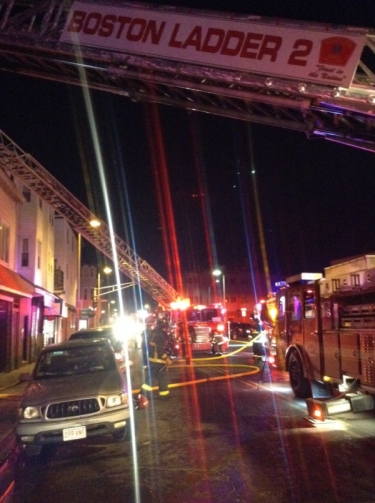 To us it will always be known as the East Boston Camps. Westford Eagle: Westford land name passes by three votes
East Boston residents hold vigil for fallen firefighters
Lieutenant Walsh - Firefighter Kennedy Memorial Fund established. Details.
Two fire fighters die battling Back Bay fire. Statement of Mayor Walsh.
Alt-schools in demand! BG: Mass. lawmakers seek deal on charter school cap; Research Bureau: Help Level 3 schools in Boston
A horse laugh for Suffolk Downs? BH: Historic barns may stall Suffolk's casino bid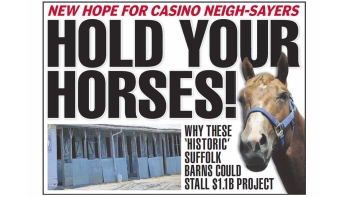 East Boston's Library Friends Organize the First High School Art Conservation Workshop: Working to preserve historic art work
What says Mayor Marty? BH: Plan to move horse barns could make hay for Boston
Cullen: BG: "Disorder in the court."
News: BG: Report portrays do-little Suffolk County register
New Safety Rules for Meridian Street Bridge: BG: Operators must now walk E. Boston drawbridge before raising it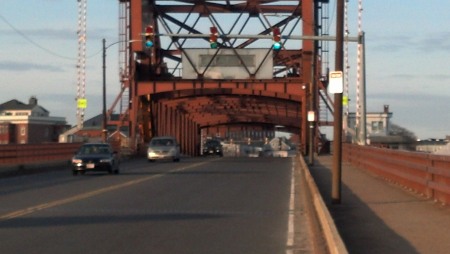 UPDATE: THIS MEETING HAS BEEN POSTPONED UNTIL FURTHER NOTICE
BOSTON, MA (April 14, 2014) – Due to an unforeseen scheduling conflict, the Forum with Councilor Michelle Wu, originally scheduled for April 28 at the East Boston Public Library, will have to be postponed. No new date has been identified as of yet. East Boston Main Streets is working with the councilor's office to identify a new date very soon. "We are sorry to have to reschedule the councilor," says Max Gruner, Executive Director of East Boston Main Streets, "but we are absolutely committed to getting councilor Wu to East Boston very soon to have an opportunity to talk to our small and micro business community."
For more details or questions please call Max Gruner, Executive Director of East Boston Main Streets at 617-561-1044.
Prayers for Mayor Menino: BG: Menino is being treated for advanced cancer
Greenway Meeting: Thurs. March 27.
City Hall News: Mayor Walsh Outlines Vision for a Global Boston
Public Safety Meeting Coverage: BG: Police, East Boston residents discuss series of assault
WHDH-TV: Woman attacked in East Boston Friday (2/28) evening
Someone was having a bad day late Monday (3/10) afternoon at the Sumner Tunnel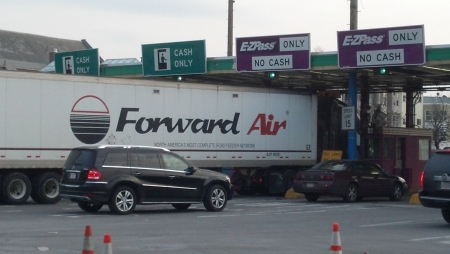 photo:eastboston.com
WHDH-TV 7News Boston Pressure Cooker sets off alarm; BG Coverage
Meeting Monday: BRA hearing on 70 Bremen Street
March 20 at 6:30 at the Library: Celebrate St. Patrick's Day with Matt and Shannon Heaton. This Boston-based, dynamic husband and wife duo sing and play traditional and updated Irish music on flute, accordion, guitar, and bouzouki. Their inventive approach, variety of instruments, and blend of new and old makes for a sound that the Boston Herald described as "majestic excellence."
Politics: East Boston Republican Ward Committee to meet March 16
Coverage: BH: Suffolk Downs wins 2nd shot at casino in Revere; BH: Nucci: Voters game, but battle's not over yet
A little half-ball: The East Boston Kiwanis Club gets competitive to save lives
CBS: Revere casino vote is not the done deal pols think it is
Good News: AP: Callahan Tunnel to reopen Monday morning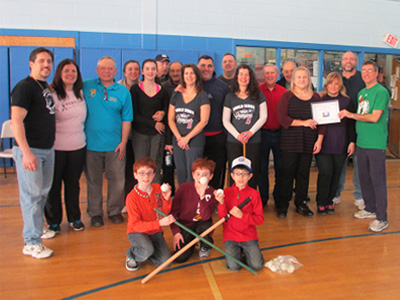 LoPresti Park Renovations to be discussed. Details.
East Boston Main Streets hosts 3/12 Community Meeting on Bremen Street development. Details.
MBTA Meeting, March 11. Details
Jeffries Point Neighborhood Association to meet March 10.
Friends of the East Boston Greenway With the East Boston Greenway Council Meeting Set Thursday February 27, 2014
Mayor Walsh speaks on SD vote. Is this what EB wants to hear?
REVERE GOES FOR IT. ON SECOND BITE, VOTES FOR CASINO AT SD
Revere's Big Day: Vote determines Suffolk Downs' future
Update II: Police says women was choked before running for help not sexually assault in recent case
Update: BH: Cops investigating 'sexual incident' in Eastie
Another incident?: Related?: WCVB: Boston police investigating possible sexual assault
Update II: Second victim of East Boston attack speaks out
Updates: Boston Police step up patrols. More coverage on recent attacks.
Account: BH: Attack victim: 'He wanted to kill me'
Update: Boston police commissioner increases patrols after three recent attacks
Public Safety Alert: BG: Police say attacks on 3 women may be related 2 on Trenton; One on Chelsea. Assailant wearing all black.
Extending a helping hand: BH: Eastie clan rallies teams for Irish girl
The children of Aura Garcia. BH: Heslam: Kids coping with mom's loss get a helping hand
Honchos: No traffic solution yet for Boardman Street
BBJ: Here's what you need to know about the Callahan Tunnel's three-month closure
News: Two of Big Three Walsh Allies now appointed. BH: John Barros named Boston's economic czar Next up Charlotte?
Housing? Where is it? Future Of Boston: Expensive Housing Market Puts Squeeze On Workers
Business News: Early Childhood Education Franchise Plans Aggressive Local Expansion
East Boston Main Streets is hiring for the position of Curriculum Program Manager for its Small Business Institute. Details.
TONIGHT! TOWN MEETING: In the wake of the multiple assaults in our community, concerned residents of East Boston have called a town meeting to discuss the recent assaults, ways to make a safer community, actions by elected and our police and to answer any questions that residents may have. Please come this Thursday, March 6, 7:00 at East Boston High School. Translation will be provided.
Gaming News: BH: Wynn: Everett won't be financed by a hedge fund like Suffolk Downs
Were it not for Coakley and the casino conglomerates! New Suffolk University poll shows a casino ballot question could be a close vote
Harshbarger: Current casino ballot question in dispute same as one abolishing greyhound racing.
Crime News: Alleged operators of Hub sex-slave ring go on trial
The Pilot: Revere faith leaders unite against proposed casino
Must read: How did Americans manage to lose $119 billion gambling last year?
Actor Philip Seymour Hoffman was a counselor at East Boston camps in Westford.
Revere: Religious leaders have no faith in casino BH
Don't Gamble on Revere: Fear and Intimidation at Work
AP: Nevada's biggest casinos lose $1.35B in 2013
Gaming News; Revere ministries mount opposition to Suffolk Downs casino.
No Eastie Casino joins forces with Don't Gamble on Revere
You don't say? BH: Boston city payroll reveals abundance of six-figure salaries
Clergy prays: Casino not a done deal.
Bombshell? BH: Union alleges illegal cash used to defeat Suffolk Downs casino
Tax Prep Help: Mayor Walsh and community partners kick off tax season
Mohegan Sun to Boston: You're not a host community
Improving LoPresti Park: Maverick Association of Residents to co-host meeting on Feb. 25.
Politics: Local Democrats to hold caucus on Saturday, Feb. 22.
Latest News: Another successful Taste of Eastie
Not so fast, say casino conglomerates: BG: Casino companies seek to stop repeal effort
Bad for Biz: BH: Small business will be hurt by gaming.
News: AP: Mass. Gambling Panel Hears Casino Pitches
Your new city government: The Walsh configuration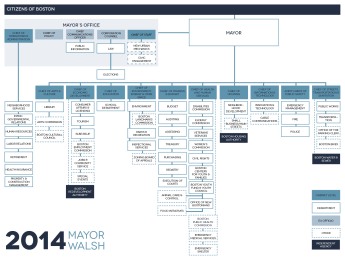 Black History Month in EB:

West African Dance Workshop. Joh Camara teaches children ages 6
and up the art of West African dancing on Tuesday, February 18, at 4:30 p.m. at the EB
Branch, located at 365 Bremen Street. More
Business News: Meridian Interstate Bancorp, Inc. Reports Net Income for the Fourth Quarter and Year Ended December 31, 2013
Massachusetts population inches up. Census MA grew by 47,000.
Crime News, Good News: Latest official Boston crime statistics show six percent drop citywide
Meanwhile, former Menino aide lines up with Berwick.
Chinese New Year Celebration at Hong Kong Harbor Restaurant: Sunday, February 9.
For Sale: Historical East Boston Items
BH: Nucci: Gambling could be gov race wild card
Update: Mayor Walsh to lift Parking Ban at 5 p.m. (Wed.)
What he says now: BH: Marty Walsh doesn't 'see' spending 20 years as mayor
Update: "City will protect Eastie, C-Town Residents"
Background: Mayor Walsh's statement on MGC decision: "Disappointed."
News: Gaming Commission says "No" to extended deadline.
Crime News: Fox: One person stabbed, three others assaulted in East Boston
Snow Storm Forces School Closings on Wed., 2/5. Mayor Walsh issues snow emergency and parking ban.
Real estate market? Has it jumped the shark? Eater News: Buy the Former 303 Cafe in East Boston for $649,000
Courant of CT: Revere Residents Form Pro-Casino Group Ahead Of Feb. 25 Vote
Update: BH: Family says bridge tender distraught
Update: Fund set up for daughters of Aura Garcia killed in bridge accident. How to help.
WCVB: Neighbors seek to help family of victim in drawbridge death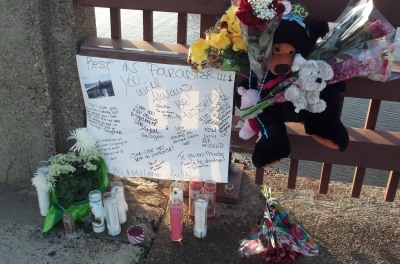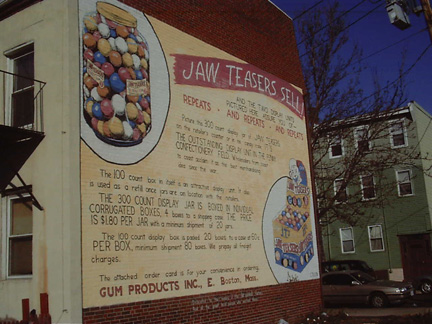 Update: Mother of two dies in fatal Meridian Street Bridge accident. CBS coverage
Jan. 27: How prepared are you for a mega-storm? Maverick Association of Residents co-sponsors session.
Bostonino: No Menino, No Problem: South End, Eastie and Charlestown Projects Approved by BRA
Salesians helping victims of Super Typhoon in Philippines. Give today
Greenway Meeting set for Thurs., January 23. Details
No Eastie Casino on 1/14: "We are pleased to report that we have been granted a meeting with the Mayor early next week."
Snow Emergency and Parking Ban to Be Lifted at 8:00 AM This Morning
Do you feel rich? WSJ: Boston one of the 5 richest U.S. cities
Logan "Gateway to the World" BG: Logan widens its reach and its impact
State House Update: Rep. Basile reports on the state legislature's accomplishments
Fatal Accident at Meridian Street Bridge: WCVB-TV: Pedestrian killed in Boston drawbridge accident
Fatal Accident at Logan: MassLive: Boston authorities continue to investigate death of 59-year-old worker killed on tarmac at Logan Airport
Marty Walsh's Big Day: BH: Walsh ready to pick up where Menino left off
Main Streets Taste of Eastie Set for Tonight.
Local GOP committee to meet Jan. 21 to select delegates to March convention.
This just in: School cancelled for Friday, Jan. 3. Details
Amazing! Police search for escaped prisoner in East Boston
Officially closed for repairs: Callahan Tunnel. To re-open in three months.
The grand farewell! #FarewellMenino: Boston Youths Paint Mural to Celebrate Mayor Menino's 71st Birthday
Menino-Land! Atlantic Mag: Boston's Outgoing Mayor Spent 20 Years Putting His Name on Everything
No host status for Boston: It's all about the Benjamins: BH: Revere trumps Boston in new deal Background: Boston wants its piece; Negotiator wants host clout
MassLive: Callahan Tunnel to East Boston, Logan Airport to close until March, detouring 30,000 daily car trips
BBJ: State, commuters brace for Callahan closure
Worker Killed By Six-Ton Steel Beam In East Boston: OSHA investigates
MassLive: Revere Mohegan Sun casino at Suffolk Downs gets second chance after Gaming Commission grants waiver
The Day: Path is clear for Mohegans to propose casino in Revere, Mass.
Daily Racing Form: Suffolk Downs: New host community vote required on casino project
BBJ Analysis: The hottest housing markets in Massachusetts; 'Eastie' tops Q3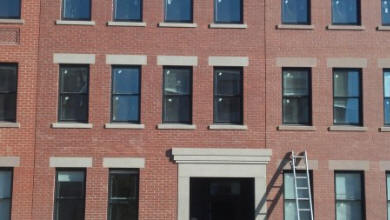 Library Meeting: Seeking input on new facility, Boston Public Library Trustees to hold EB meeting on Tuesday, Jan. 14, 3:00PM, at the library on Bremen Street.
Massachusetts Emergency Management Agency offers cold safety tips
Jeffries Point Neighborhood Association to meet Jan 13.
MassLive: Mohegan Sun, Revere finalize host community agreement for Suffolk Downs casino: More coverage from BostInno & BH
News: East Boston man arrested for incident at Maverick Sq. MBTA
Why junkies suck! Universal Hub: East Boston McDonald's vows to clean up restrooms, where cops keep finding drug addicts, one of them dead